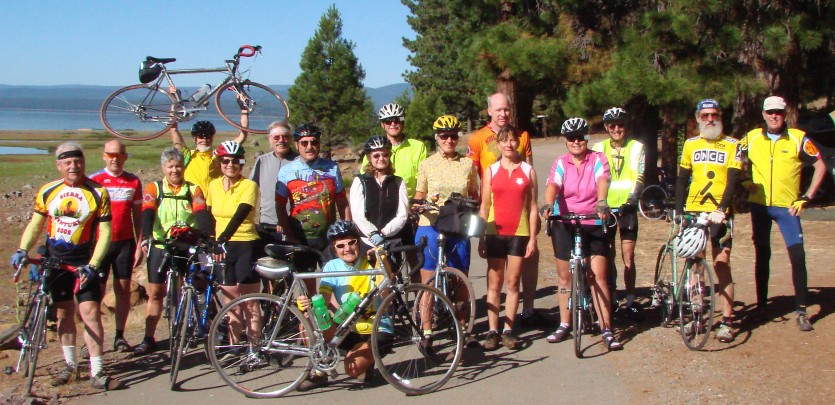 Alfred, Mark, Rose, Gary, Mary, Dave Jones, Bob, Elsa, Beth, Phil, Marcia, Alan, Sue, Linda, Vin, Dave Allen, Ernie. (Ed and Margaret not in photo)
Full-size photo
Gourmet cycling tour, 2007
En español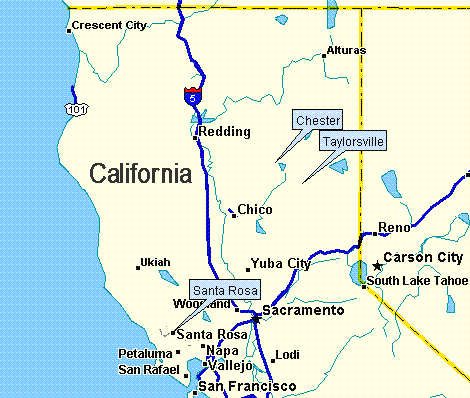 Day 0
June 23 
Saturday
Santa Rosa to Taylorsville (driving)
Day 1
June 24
Sunday
Greenville/Indian Valley
Day 2
June 25
Monday
Antelope Lake
Day 3
June 26
Tuesday
Taylorsville to Chester
Day 4
June 27
Wednesday 
Lake Almanor
Day 5
June 28
Thursday
The three-fingered workout
Day 6
June 29
Friday
Mount Lassen
Day 7
June 30
Saturday
Chester to Santa Rosa (driving)
Conclusion
Miles
This is the third "Gourmet" tour that I have taken. It's a little strange to think that this group has existed for over 25 years, without any organization at all. There has never been a President, Secretary, or official membership list. Each year, someone volunteers to investigate the routes, someone reserves the camp sites, and someone organizes the lists of the cooking crews and the vehicles to transport the bicycles, luggage, and camping equipment to the beginning of the tour.
We practice a form of "cooperative touring" similar to the method used on the Santa Rosa Cycling Club tours. Everyone helps with camp chores. Each day, a different cook crew has responsibility for buying the food and preparing the evening meal and breakfast the next morning. Each rider makes his own lunch to carry on the bike, using food set out at breakfast. We transport the riders and their gear to the start of the tour using several vehicles and a trailer, which are also used when changing camp sites.
This year, we explored the northern tip of the Sierra Nevada mountain range in northeastern California. We only changed campsites once, doing loop rides out of each. We were pleased to welcome several new members, as well as the original founder of the group over 25 years ago. This is my diary of our adventures.
Last updated November 23, 2021