Friday June 29, Mount Lassen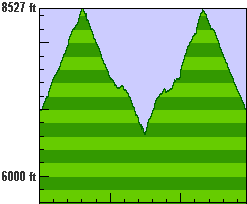 30 miles, 3343 feet of climb (200 ft/division)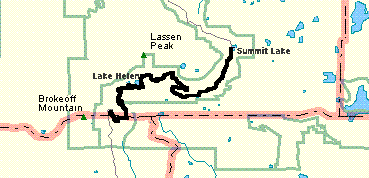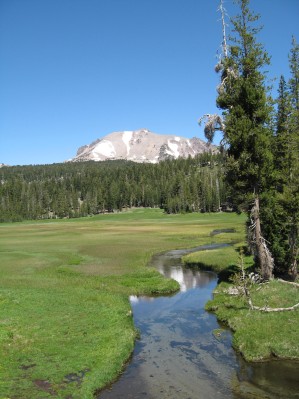 Today we climbed Mount Lassen. We drove in trucks a little bit past the park entrance so as not to have to pay the entrance fee for each cyclist. From there to the top, the road climbs 1500 feet (460 meters). We continued on down the other side of the mountain to Summit Lake, a descent of 1800 feet (550 meters), where we had lunch before returning.
Although a total climb of 3300 feet (1000 meters) is not so terrible, it was rather difficult for me because of the altitude. At the top at 8500 feet (2590 meters) the air is thin and I had some difficulty breathing.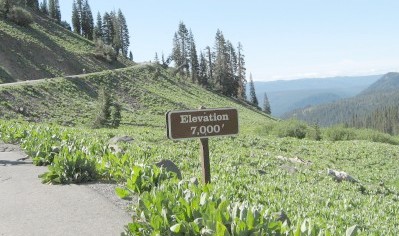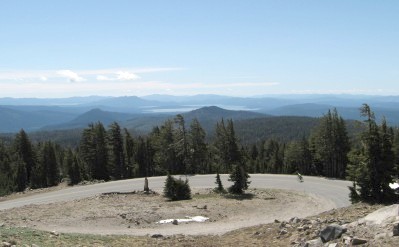 In some places we could see back toward our campground on Lake Almanor. With a big telescope I bet you could see your tent from there!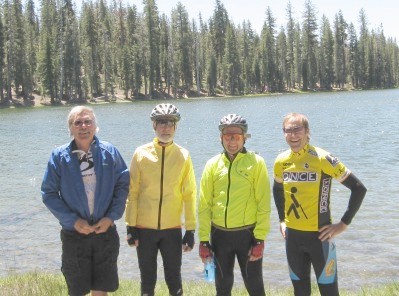 We had lunch at Summit Lake. In the photo are Dave Jones, Gary, Mark, and Gary's son Andy, who joined us for the day.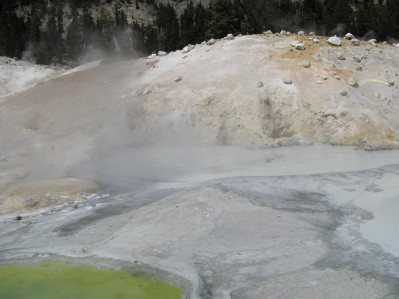 On the return, we stopped and walked the 1.5 miles (2.4 km) to "Bumpas' Hell". You can hear the rumbling and smell the sulfur from the boiling springs before you get there.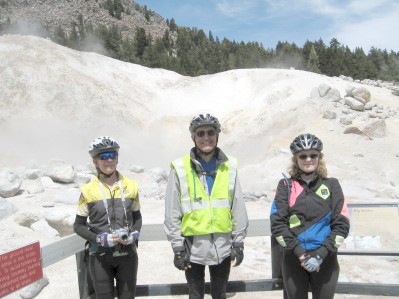 While walking on the wooden boardwalk, we were careful to avoid the clouds of sulfurous gas emitted by the fumaroles (holes in the ground that emit gas). The three cyclists in the photo are Sue, Vin and Beth.
The mudpots with their boiling muck look like witches' cauldrons.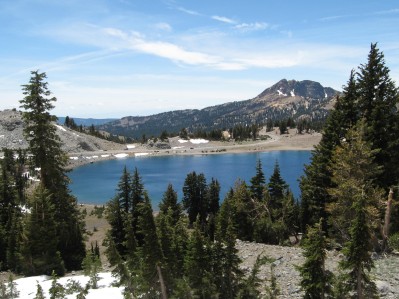 On the way back, we stopped for a bit to admire Lake Helen.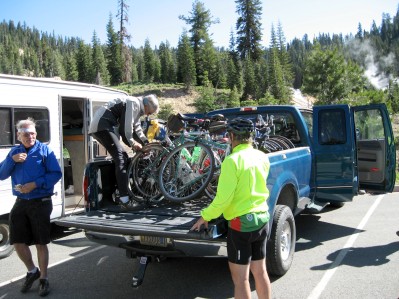 We couldn't stay long because we had to be back to the truck to join the others by 3:30.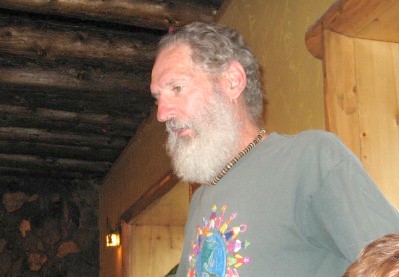 Per old custom, we had dinner at a restaurant the last day. The food at the Timber House restaurant was excellent and the owner told us that we were a very kind and happy group. After eating, Dave Allen recounted a history of the Gourmet tours from their beginnings over 25 years ago. Then each person gave his little gift to his "secret friend" and explained how it was appropriate for that person