Saturday June 23, Santa Rosa to Taylorsville (driving)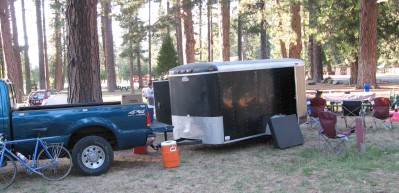 We met this morning at Vin's ranch at eight in the morning. There's plenty of space to stash our cars during the tour. We put the tents, stoves, food, and other equipment into the trailer, pulled by Vin's large pickup truck. There were 12 of us in 3 vehicles and there were going to be 7 others driving their own cars directly from their homes.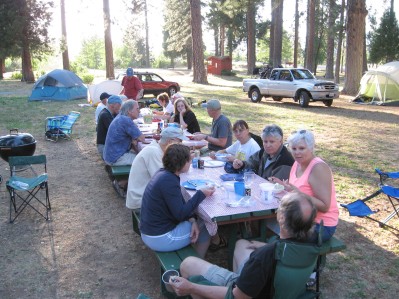 Our destination was the Taylorsville County Park and Campground in Taylorsville, in the foothills of the Sierras. We arrived at three in the afternoon and unloaded the trailer. My friend Sue and I erected our tent in a few minutes. Dinner consisted of baked salmon (cooked in aluminum foil over the fire), mashed potatoes, broccoli, salad, and for dessert, homemade ice cream with fresh strawberries. This is why we call ourselves "the Gourmets".