Sue and Alan's Cycling Tour in New Zealand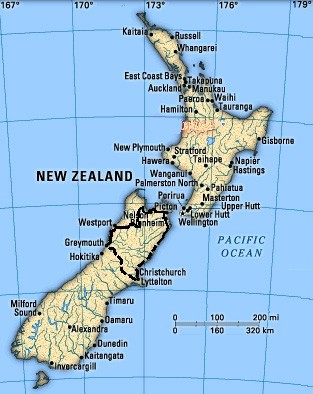 Day 0
Nov 17
Thursday
Christchurch
Day 1
Nov 18
Friday
Christchurch to Punakaiki
Day 2
Nov 19
Saturday
Punakaiki to Inangahua
Day 3
Nov 20
Sunday
Inangahua to St. Arnaud
Day 4
Nov 21
Monday
St. Arnaud to Motueka
Tasman
Nov 22
Tuesday
Hike in Tasman NP
Day 5
Nov 23
Wednesday 
Motueka to Rai Valley
Day 6
Nov 24
Thursday
Rai Valley to Spring Creek
Day 7
Nov 25
Friday
Spring Creek to Blenheim
Day 8
Nov 26
Saturday
Blenheim to Cycle Packers Hostel
Day 9
Nov 27
Sunday
Cycle Packers Hostel to Kaikoura
Day 10 
Nov 28  
Monday
Kaikoura to Christchurch
Conclusion
Miles
In November 2005 my friend Sue and I did a 2-week cycling tour in New Zealand. We started in Christchurch, the principal city on the south island. From there we took the "Tranz Scenic" train over the mountains to the west coast at Greymouth from where we started the cycling portion of the trip. Since we had only two weeks, we confined our tour to the northern part of the south island.
During the tour I kept a diary on my hand-held Palm Pilot computer. Since it is fairly painful to input text using the stylus and "Graffiti" the diary is a bit terse. On future trips I will take a computer with a full-sized keyboard so I can write more freely.
Some useful NZ bicycle touring links
BBH Backpacker Hostels.
"Pedallers Paradise" The NZ bicycle touring map books that everyone uses.
Tourist information
Maps from the New Zealand Automobile Association.
Top 10 Holiday Parks Campground chain. Like KOA in the US but nicer for cyclists.
New Zealand weather
The Press The Christchurch newspaper.
The Dominion Post The Wellington newspaper.
The New Zealand Herald The Aukland newspaper.
Last updated November 22, 2021