Santa Rosa Cycling Club "Two" Parks Tour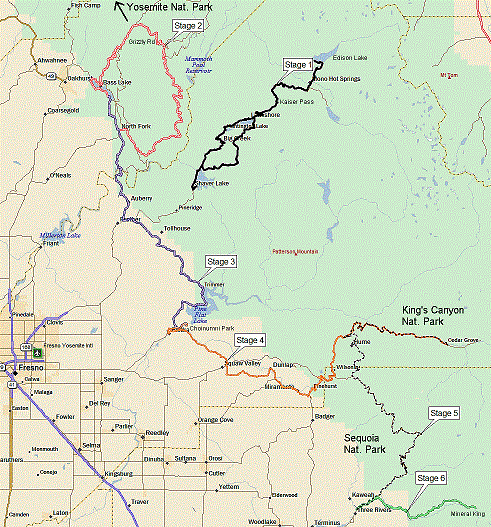 (Click for full-size map)
Stage 1
Aug 20  
Sunday
Midge Creek - Shaver Lake
Stage 2
Aug 21
Monday
North Fork - Griz - Bass Lake
Stage 3
Aug 22
Tuesday 
Bass Lake - Choinumni Park
Stage 4
Aug 23
Wednesday
Choinumni Park - Cedar Grove
Stage 5
Aug 24
Thursday 
Cedar Grove - Three Rivers
Stage 6
Aug 25
Friday
Mineral King out-and-back
Conclusion
This is the third time the Santa Rosa Cycling Club has had this tour. I did it the first time in 1998 and there was another "Three Parks" tour in 2008. Originally the plan for this year was to follow the same pattern, visiting three national parks, Yosemite, Kings Canyon and Sequioa. However a major wildfire broke out in Yosemite two miles from our campsite at Wowona, so we had to change the itinerary from three to two national parks.
We decided to try something a little different this time. We rented two 13-passenger vans that each pulled one of the club trailers. Each vehicle would ferry our stuff to the next day's camp site each day and also act as sag wagons during the ride. This saved everyone a lot of gas and hassle getting to the start of the tour. Everyone had to drive only to the club warehouse and then traveled in the vans from there to the start.

One van pulled a large enclosed trailer that held the food and other supplies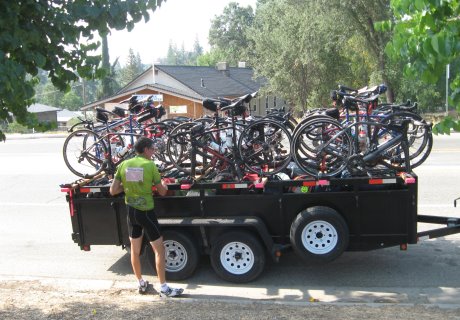 The other van pulled an open trailer to which homemade bike racks capable of carrying up to 24 bikes had been attached to the top. Riders' camping and other gear was loaded in the space below the bike racks.
I was in the van pulling the bike trailer. We stopped in Manteca to pick up Steve and J.T. in a hotel parking lot so they wouldn't have to drive all the way to Santa Rosa. We had an issue with the water jugs sloshing and leaking out the top and also an issue with one of the bike fork mounts coming loose. Both problems easily solved.
In the pages linked above, you can click on any of the thumbnail photos to get a full-sized image.

Last updated November 23, 2021