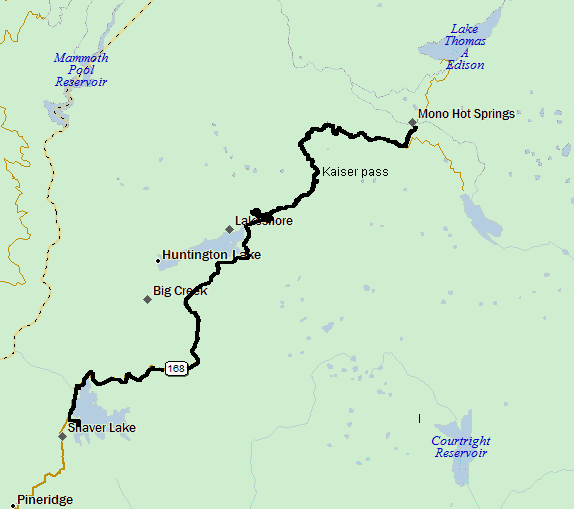 August 20, Sunday, Midge Creek to Camp Edison (Shaver Lake)
53 miles, 6367 feet
Stage 1 is the first of the two days that had to be re-routed because of the fire. The route went from our Forest Service camp at Midge Creek up to Kaiser pass, past Kaiser pass to Edison Lake, and then retraced the route past Midge Creek to tonight's campsite at Shaver Lake.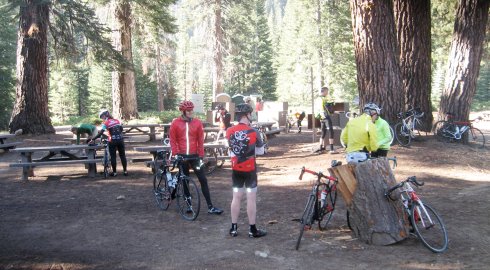 This is a typical scene preparing to leave camp in the morning.
Before starting this tour, I was worried about the heat. As I've gotten older I have noticed that my body doesn't tolerate high temperatures as well as it used to, but fortunately that was not a problem today. Here I am at the top of Kaiser Pass.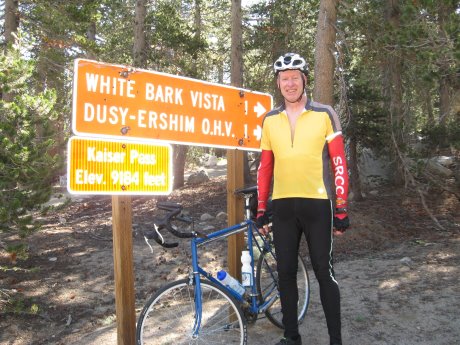 The road to Edison Lake turned out to be very steep up and down and the surface was very bumpy with lots of pot holes. I had a water bottle pop out and the screws on the GPS handlebar mount vibrated loose.
For such a remote, one-land road there was a surprising amount of traffic. I frequently had to pull over to let vehicles pass by. About a mile after turning onto Edison Lake road, after seeing several other riders coming back who shorted the course, I did the same thing. I turned around a little past this bridge.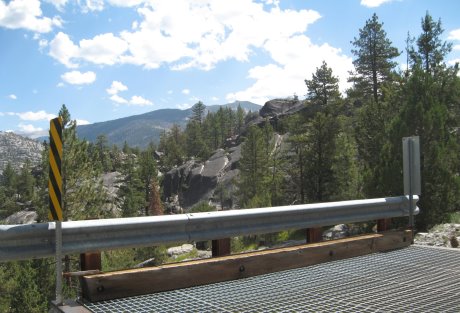 I later learned that only 5 riders did the whole route today. I ended up doing 53 miles instead of 64. Kaiser pass is 9100 feet above sea level so I was limited by my breathing. After the ride, even the hard-core riders were complaining about how hard the ride was, but I am clearly the slowest rider in this group. Oh well, somebody has to be last.

Back - Top - Forward