Sue and Alan's Road Scholar Tour in South Dakota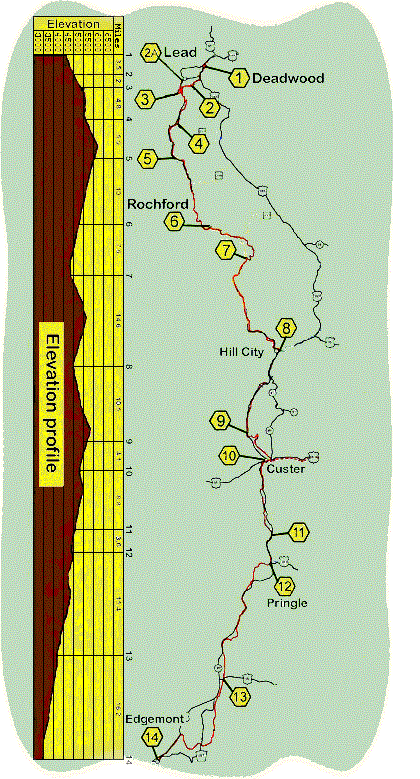 I have been familiar with the non-profit Elderhostel organization (now called "Road Scholar") ever since my mother used to volunteer for the program in my home town of Gettysburg PA many years ago. However this is the first time I have participated in one myself.
Our home base for 6 days and 5 nights was the Outlaw Ranch, a property owned by the Lutherans Outdoors organization in South Dakota. The four days of bicycle riding covered all 109 miles of the Mickelson Trail, which is converted from part of the old Burlington Northern railroad.
Sue and I flew into Rapid City from California on Sunday and were picked up in the ranch van by Mary K, who seems to be the "do everything" utility infielder among the volunteers on staff. The five of us in the van, Mary, Pam, Kim, Sue and I were immediately chatting away like long-lost friends.
On the way, we stopped in Hill City to pick up my bike. Since I am so tall, they decided to supplement their in-house fleet of mountain bikes by renting a large cross bike for me from the Rabbit Bicycle shop in town.
In the pages linked above, you can click on any of the thumbnail photos to get a full-sized image.

Last updated November 23, 2021