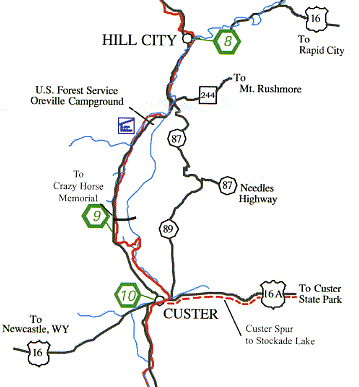 August 29, Monday, Custer to Hill City
15.6 miles
Our first day was a short one to check out the bikes and start getting acclimated to the mile-high altitude in this part of South Dakota. The van ride to the start in Custer was a short one; the bikes were quickly unloaded from the trailer and we started off down the trail.
It was gray and drizzly but we hoped for better weather later on since weather patterns tend to move through quickly. I had heard a lot about the Crazy Horse memorial carved into a mountainside à la Mount Rushmore so I hoped the fog would clear before we got there so I could see it. It was not to be, however.

Sue is "la fotógrafa" of this expedition — I am just a snapshooter. I did manage to get a "photographer-photographing" photo: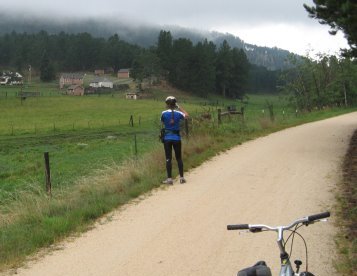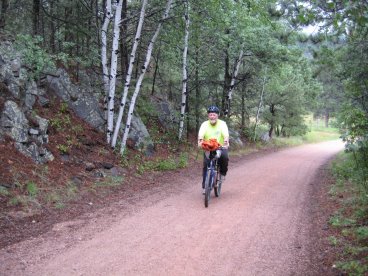 By the way, just click on any of these thumbnail photos to get a full-resolution image.
Here's Dr. Dale bringing up the rear with his medical kit in case he needs to scrape any of us up off the trail.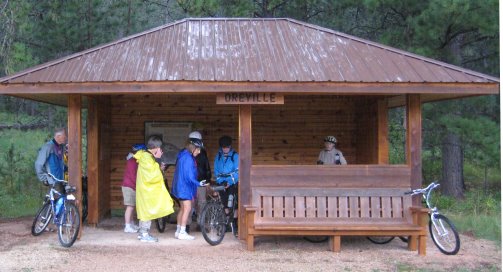 As the day wore on, the rain got worse and worse. By the end we were riding through a continuous downpour and everyone got soaked to the bone. I had brought an extra-long fender for my rear wheel but still got a big rooster tail on my rain jacket.
The staff told us that all this rain is very unusual. It is not uncommon to have an afternoon thundershower but it usually passes in a few minutes. A story in the local paper the next day reported that today's rain broke the all-time record for this date.

From the National Weather Service web site:
A RECORD RAINFALL OF 1.07 INCHES WAS SET AT THE RAPID CITY REGIONAL AIRPORT YESTERDAY. THIS BREAKS THE OLD RECORD OF 0.36 SET IN 1996.

A RECORD RAINFALL OF 1.15 INCHES WAS SET AT THE NATIONAL WEATHER SERVICE OFFICE IN EAST RAPID CITY YESTERDAY. THIS BREAKS THE OLD RECORD OF 0.54 SET IN 1901.
After we got back to the ranch, got cleaned up and consumed a marvelous dinner prepared by Marlys, we all felt a lot more comfortable. The entertainment for the evening was a van ride to Mount Rushmore. We stopped at a lookout on the way where you can get a good profile of Washington.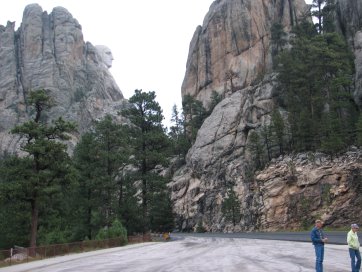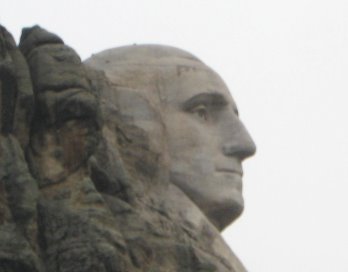 That evening, by the time the program at the memorial was over, the low-hanging clouds had come back in so we didn't get to see the light show. But we did get some photos before that.

That's Sue B by the sign.
Back - Top - Forward