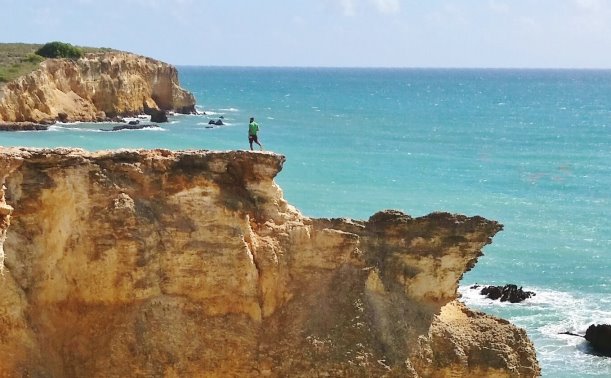 Sunday Decenber 13, Parguera to Boquerón


43 km / 27 miles, 361 ft / 110 m of climb (200 ft/division)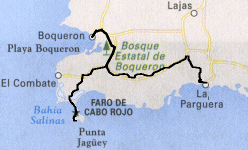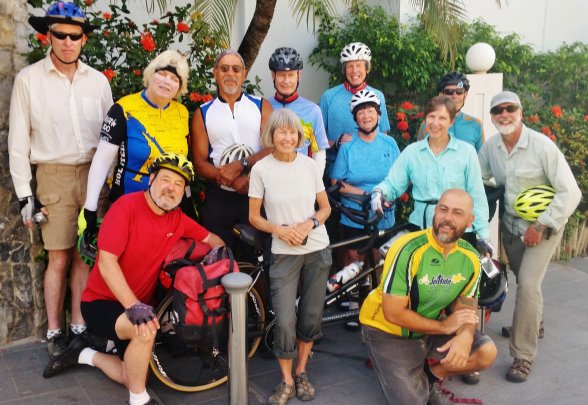 As everyone was getting ready to leave this morning we did a group photo of "The Dirty Dozen" in front of the hotel. Let's see, in the back row that's me, Carol, Louis, Richard, Ray and Rich, and in the front row are Art, Janet, Kristie, Patty and Doug with Dan kneeliing in the front. Thanks Art for the photo and also for the photo from the Cabo Rojo lighthouse above.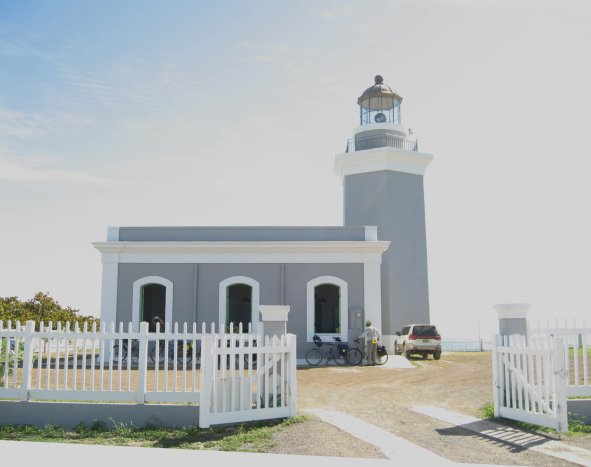 Since it was a short ride today, everyone decided to go see the lighthouse, which is only a little out of the way on our route. We took Louis' back way out of town. The last mile or so is on an unpaved road. A mountain biking club happened to be there and they insisted that we take a group photo with them. I asked if they had heard of Aníbal the bike racer and, as Louis had predicted, they had.
We arrived early at the hotel, around 1:30, so they didn't have all the rooms ready yet. Dan took us down the street for lunch. I had already eaten my peanut butter and jelly sandwich but a cyclist is always ready for more food. Dan ordered two sample plates, which turned out to be huge platters – enough food that we wouldn't have had to order lunch for everyone. So I was totally stuffed.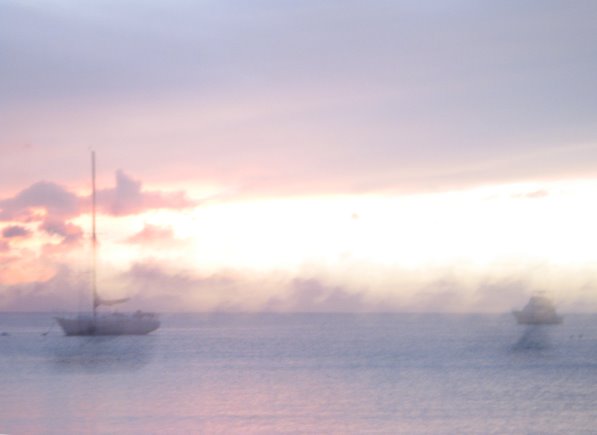 Three hours later we went to dinner at Galloway's restaurant, practically across the street. I wasn't hungry so I just ordered a Caesar salad. There was a lovely sunset over the sea that you could see from the dining room. This image reminds me of the ghost ship in Wagner's opera, The Flying Dutchman.
Boquerón is a party/beach town. I hear music as I write this.
I think I've figured out what the clunking sound is. It's the left crank hitting the chain stay. Sure enough, that would cause a clunk on the down-stroke of the right crank. I must have done something wrong when assembling the bike, but I don't know what. I'm not sure how to fix it.
There's no clock and no phone in the room. I hope I get up on time tomorrow.