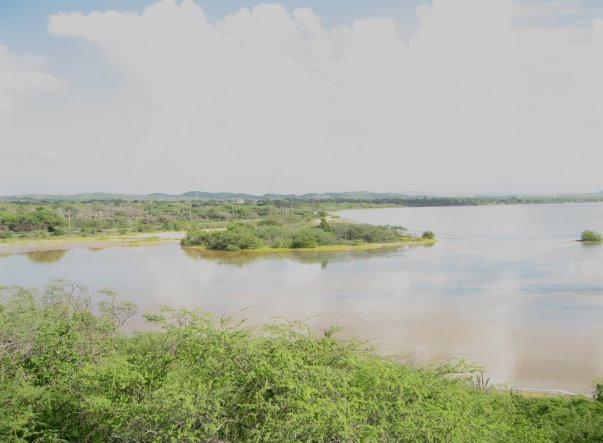 Saturday Decenber 12, Parguera loop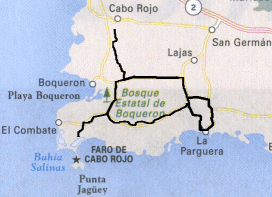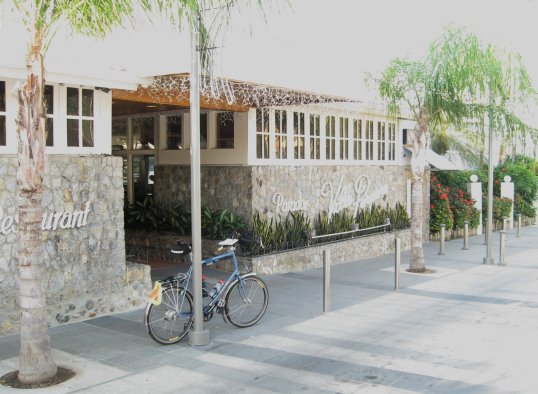 This was a layover day. The plan today was to do the optional ride out to the lighthouse in the morning and then scuba dive in the bioluminescent bay at sundown. I rode with Rich and Carol. She broke another spoke, her third so far on her brand-new bike. We stopped at a wooden tower a little before you get to the "Faro" (lighthouse), which we climbed to see the view. (See photo above.)
Afterwards we stood around discussing her bike. The wheels have only 24 spokes, which is absurd for a touring bike. She decided that she needs at least a new rear wheel. Just then Louis rode up and told us that there is a bike shop that specializes in wheels in Cabo Rojo, which was actually closer to where we were than the hotel in Parguera. So we decided to all ride together to Cabo Rojo, with Louis leading the way.
There was another bike shop that was right on the way that Louis said is only open sometimes because Aníbal, the owner, is a mountain bike racer and is often away. Aníbal didn't have any wheels for sale, but we did get to see all his trophies, including a batch from this year. He is 68 years old. According to Louis, he is famous among all the mountain bike racers on the island.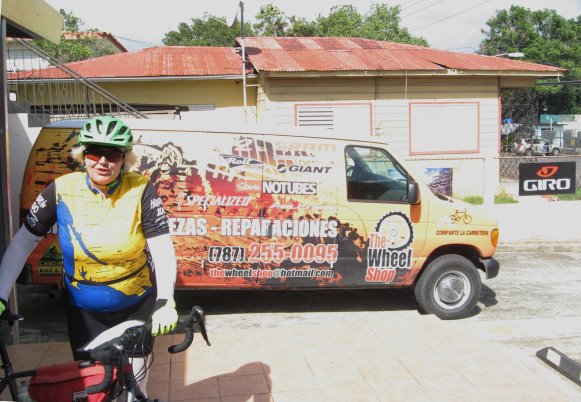 In Cabo Rojo, while the bike shop was preparing Carol's new wheels, we walked down the street to an eatery where we had rice and beans with chicken. While we were eating, the bike employee stuck his head in and said that since Carol's bike has an 11-speed cassette, the only suitable wheels they had were with tubeless rims and would be more expensive. I think she ended up paying $680 for two new wheels, tires and labor. But she's happy since she now has a serviceable touring bike.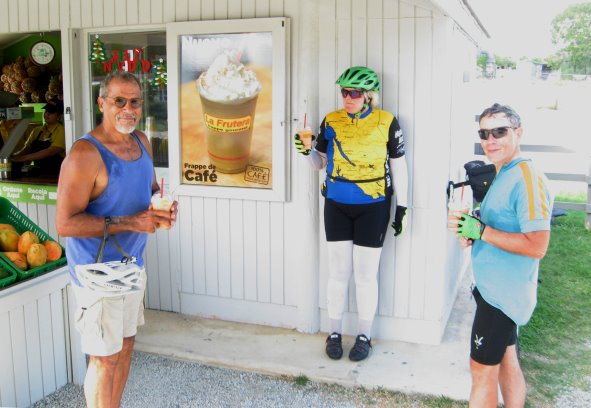 On the way back we stopped at one of Louis' favorite local cycling destinations and had perhaps the best smoothie I've ever tasted. Not the coffee one, but Louis' own formula: "Piña, caña y fresas con papaya y mangó". (Pineapple, sugar cane syrup and strawberries with papaya and mango.) He led us back to town by some very scenic and hilly backroads.
We got back to the hotel Parador Villa Parguera about 3:20, which was about when we needed to leave for the snorkeling. We still needed to shower and change, so we all decided to bag it.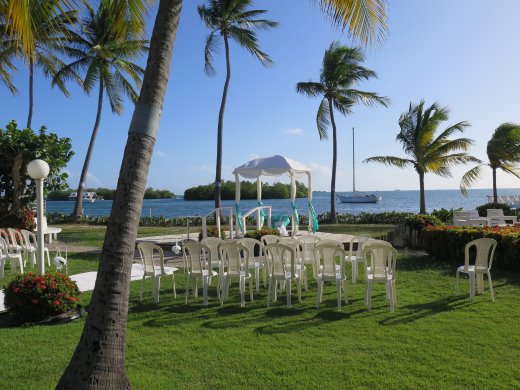 After showering and changing clothes, I heard some music outside and found a wedding going on in the area outside the back door of my room. It was a military wedding because the groom is in the Air Force, according to one of the wedding guests I spoke with. Thanks Kristie for the photo.
Tomorrow is a short ride, only 26 km (16 miles). Some of us will add a trip to the lighthouse since we didn't make it there today. It is right off the route and only adds 16 km, or less if we take Louis' backway again from here.
As I write this at 10:00 pm there is music coming from an open-air concert down the street. I may need my earplugs again tonight.