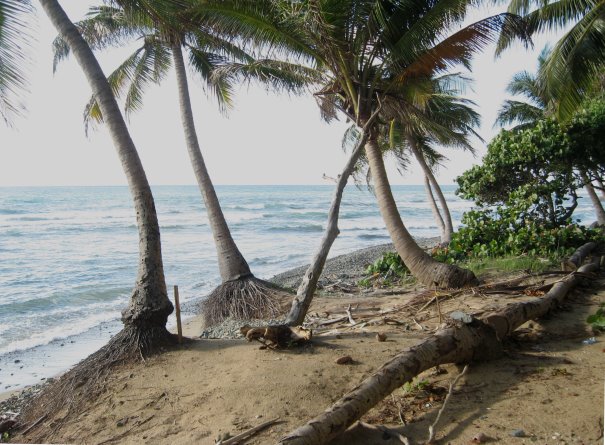 Thursday Decenber 10, Maunabo to Ponce


96 km / 60 miles, 978 ft / 298 m of climb (200 ft/division)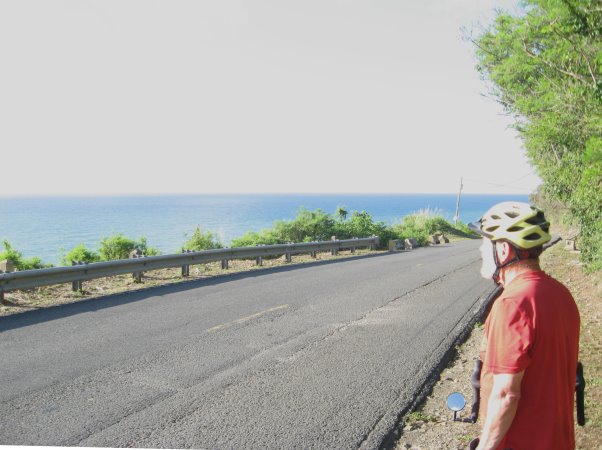 The ride today was along the southern coast, facing the Caribbean. They normally get a lot less rain here. We had scattered clouds all day.
In the morning, by the time I got my bike ready and wheeled it up to the reception, I didn't see any of the other riders around. I asked the receptionist if the others had already left. She said, "What" so I repeated, "¿Los otros salieron?" She assured me that they had already left.
So I resigned myself to probably riding alone today and trying not to get lost. (I have the world's worst sense of direction.) But I didn't get too far down the road when Art caught up with me. We rode together the whole day. We wondered why we didn't see a single other rider all day. Later we found out that, no, only Rich had left before us and we ended up being the second and third to arrive in Ponce. (Actually, Kristie and Ray had arrived before us on their tandem, but they had driven part of the way because Kristie is still sore from their crash.)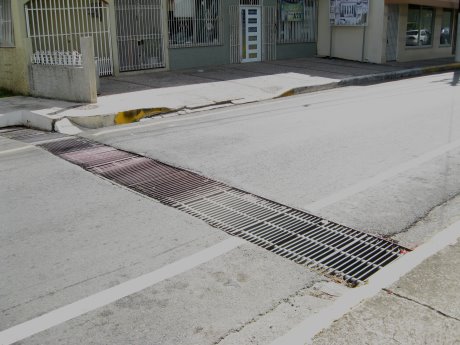 Speaking of their crash, here's a photo of another one of those storm grates with bars parallel to the direction of travel. You really have to watch out for those things.
The heat was an issue, even more than the other days. I've been drinking about 4 large water bottles plus other fluids every day. Today I had the 4 water bottles, two additional bottles bought at stores, a can of Sprite, and a fountain drink at a fast-food joint.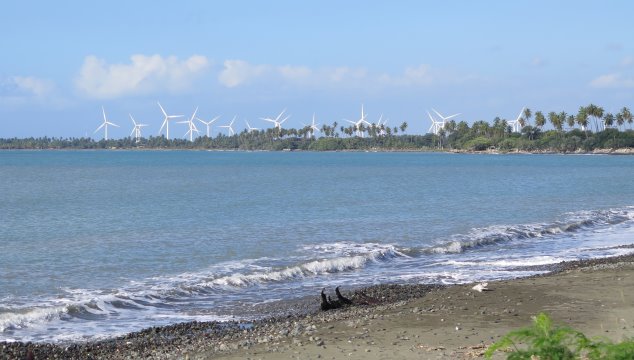 For lunch we stopped at a roadside kiosk and each had a big piece of greasy chicken and a Sprite. The guys there were impressed when they found out how far we are going today. I got a big laugh when I told them that "Los viejos somos fuertes" (We old guys are strong.) I later learned that Art is 72. He looks 10 years younger.
One of our water stops was at a bar where we sat at the counter drinking our water and watching some Transformers movie dubbed in Spanish on their TV.
Thanks Ray for the photo of the windmills.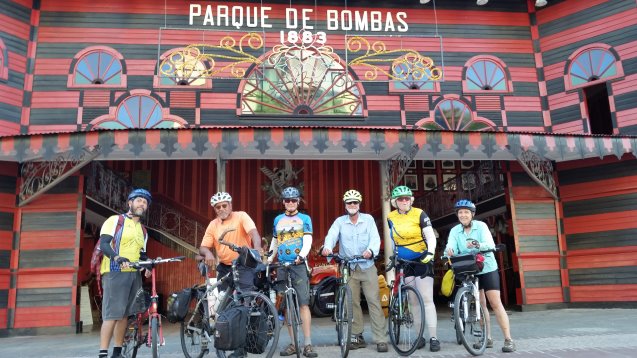 It is hard to find your way in the cities here. Louis told us if we need to ask directions, ask for the "Parque de Bombas", a firefighting museum, which is almost across the street from our lodging for tonight, the Hotel Maliá in Ponce. Thanks Richard for the photo.
The hotel gave us a card for a free drink on the rooftop patio. I had a Sprite and chatted with Rich and Art as we enjoyed the view and waited for dinner. Dinner was pork, rice and some kind of flavored potato plus desert. Rich asked for seconds since he hadn't had lunch and was really hungry. He is a fast rider and is always the first one in.
The hotel seems clean and nice with a pool on the first floor. We left the bikes in a big room on the first floor that they are renovating to turn into a restaurant. It was an inconvenience not having the bike handy. My room is of a reasonable size, but the bathroom is really cramped. It is hard to sit down on the toilet because the sink is right in your face. To use the sink you have to stand at its side since the toilet is in the way. There is barely room for a small bath mat in front of the shower. The air conditioner was extremely loud. There is Wifi in the rooms, but the connection is spotty. I'm told you get better reception on the rooftop patio. There is no clock in the room so I guess I'll have to leave a message to call me at 6:30.
No email from Sue, which is what I expected since she hasn't even arrived in Ohio yet. She'll be staying at her Dad's house, which has no Internet.