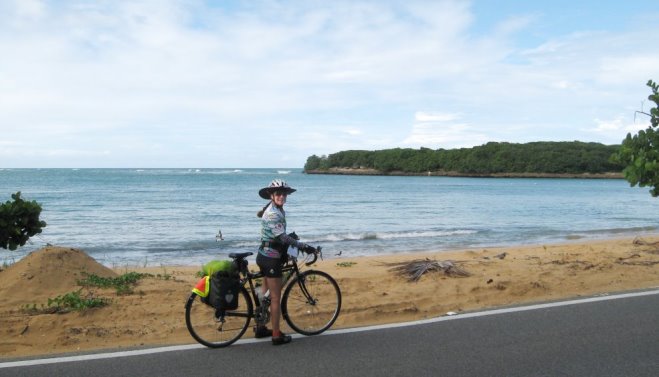 Monday Decenber 7, San Juan to Fajardo

Things did not start well. We got a late start Ė all the others had left by the time we got out of the hotel. Then we discovered my mistake from the night before. A couple blocks from the hotel Sue crashed because I had apparently forgotten to tighten the stem bolt on her bike. Itís hard to steer the bike when the handlebars are sideways. She got some bad road rash on her knee, which she treated using my first-aid kit. Then we got lost going through downtown San Juan. (Couldnít figure out where to go at the end of the bike path). We asked a passerby for directions and eventually found our way back on the route, but now we were REALLY far behind the others. I hoped traffic would be light since we were late enough to miss the rush hour, but there were still lots of cars.
The rest of the ride was mostly uneventful. We stopped around 1 pm at a gas station where I bought a liter of pear juice (only $1.29) and we sat on a bench in the shade and drank it and ate the PB&J sandwich I had packed. We stopped later at another gas station and bought sodas and peanuts. We had trouble finding the hotel at the end of the ride but stopped at a nearby hospital and talked to the guard who didnít know. But he went inside and found someone who had heard of the Fajardo Inn and was able to give directions (in Spanish, translated by the guard).
Dinner at the hotel was all-you-can-eat, which was good since we basically didnít have any lunch. Iím starting to learn everybodyís name. We learned that there had been several other crashes today, including one of the tour leaders, Louis, who fell on a wet, slippery boardwalk when he tried to take a bike path parallel to the route. Also Janet crashed and cracked a collarbone on the same boardwalk and Kristie and Ray crashed their tandem when they ran into one of those nasty road grates that run all the way across the road with the slots parallel to the direction of travel. Sue had noticed that particular one when we came to it so we got off our bikes in the middle of the intersection so we could walk them over it.