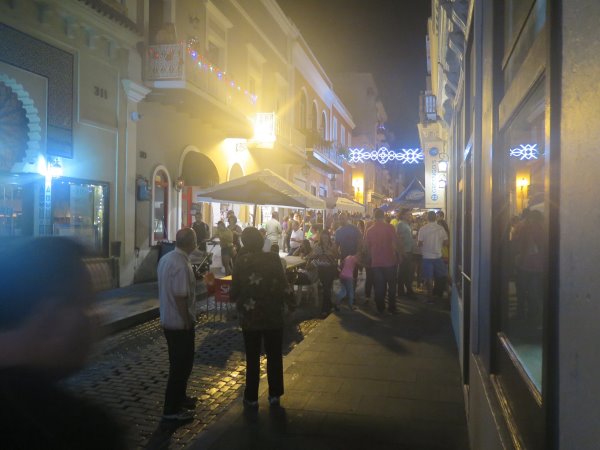 Sunday Decenber 6, San Juan
Our plane from San Francisco yesterday took off at 8 am, meaning we had to set the alarm clock for 2 am in order to catch the airport bus from Santa Rosa at 3:30. Ugh!
Touchdown in San Juan was a little after 11 pm Puerto Rico time. By the time we got our taxi, it was well after midnight. There was a big festival going on in Old San Juan and they had many of the streets blocked off. (Thanks Ray for the photo above.) Most are narrow, one-lane cobblestone streets anyway, so traffic was a mess. The taxi driver drove around (actually inched around a few feet at a time) and finally had to drop us off a couple blocks from the hotel. It was nearly 2 am by the time we got checked in.
This morning, after about 5 hours of sleep (and two hours the night before) I now had to assemble Sue and my bikes. Our 4th-floor room was tiny, so the hotel manager let me do the work in a little room outside his office on the first floor. I got Sue's bike together and mine mostly done by the time of the group meeting at 4 pm. I blame my brain-dead state for my mistake assembling Sue's bike.
At the meeting we met the tour leaders Dan and Louis as well as the other riders.