Aug 25-Sept 4 and Sept 11-13, 2000 - Iloilo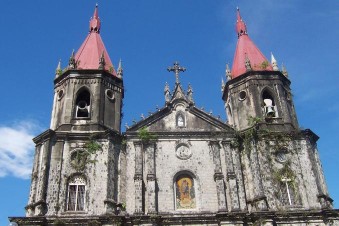 Molo Church, Iloilo
This page contains almost nothing about cycling. Although my web site is mainly devoted to my bicycle tours, I did want to take this opportunity to record the last extended visit I had with my Mom while she was still healthy. (She died a couple weeks ago, 1/30/2007, at the age of 89.)
8/25/2000 Friday - Balikbayan: Returning Home
We landed in Manila an hour early. We could easily have made the 5:25 flight to Iloilo instead of waiting around in the airport until 9:45. I noticed that the in-flight announcements seemed to be in English more than in Pilipino (the Filipino national language, similar to Tagalog). I did catch a few Pilipino words - salamat, ano, mabuhay - that are the same as Ilonggo, the native language of Iloilo province, Guimaras Island, and Negros Occidental. I have been studying the "Nagatuon ako sang Hiligaynon" web page to try to teach myself some common words and phrases. Mom says she was more fluent in Ilonggo than English when she was a little girl but has almost completely forgotten it in the last 65 years.

We were met at the Iloilo airport by Uncle Dave, Aunt Hazel, Rick Patricio of CPU, an alumnus from Mom's era, and the driver. Baggage claim was kind of a free-for-all. The Manila airport was more organized, with conveyor belts similar to the ones in San Francisco. One difference with Filipino baggage areas is the sea of 20 x 20-inch cardboard balikbayan boxes that ex-pat Filipinos use to bring gifts when they return home for a visit.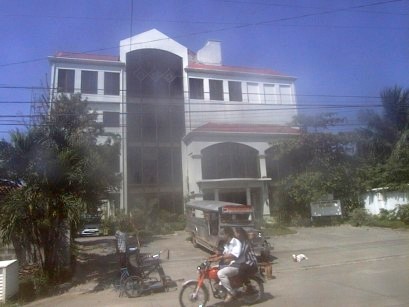 The Hotel Chateau Angelique is considered fairly good, but would be definitely second rate by US standards. It has spartan rooms with not everything working, rusty bath fixtures, unpatched holes in the plaster, etc. On the other hand, the hotel restaurant is pretty good and the price is only $16 a night. It's located just a few blocks from the back gate of the university. This is the NW part of the Jaro district, which is north of downtown.
Uncle Dave took me on a ride in a tricicad (actually one each for the two of us). Cost for the 10-minute ride was 5 pesos each (12 cents). We went to his bank to change some dollars into pesos. It took a half hour - very bureaucratic.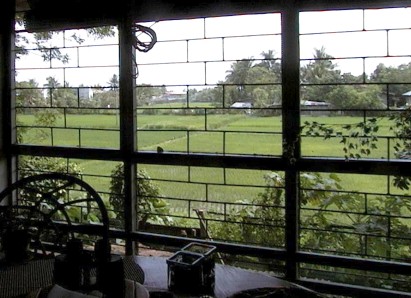 Dave and Hazel's house on the university grounds looks kind of old from the outside but is fixed up very nicely inside. They live on the second floor. Their screened-in porch has a beautiful view over the neighboring rice fields. I helped Hazel figure out how to do some things on her computer with Adobe Photoshop.
Their housekeeper is a young lady named Zueda. She also is their video cameraperson-trainee. (My aunt and uncle produce award-winning documentaries.)

8/26/2000 Saturday - Mom's Tricicad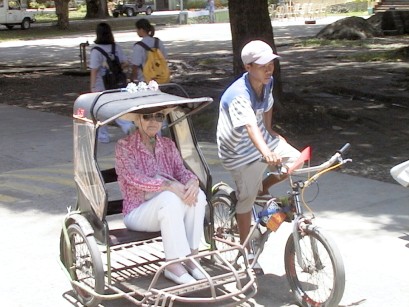 Today we went to see the President of CPU, Dr. Acanto. We also had a tour of the campus in the university van. The campus is an easy walk from the hotel, but too far for Mom. They got special permission for Mom to enter the university grounds in a tricicad.

Later we went downtown (by taxi) to do some shopping. Iloilo is crowded with about 350,000 people. There is poverty (run-down buildings, street beggars, lots of people getting around on clunker bicycles) but also fancy shops and smartly-dressed young people with the ubiquitous cell phones. Uncle Dave loaned Mom a cell phone to make it easier to call them, but the circuits are often busy.

Our lunch was a very nice Filipino meal prepared by Zueda. In the evening, we went to the Del Rio Hotel for their Saturday night buffet. For $35 we got good food, all you can eat, for four people.

8/27/2000 Sunday - The Bahandi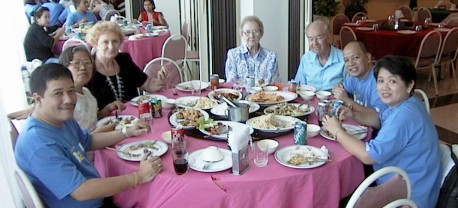 Mom is at the far side of the table with her brother
(Uncle Dave) at her left and Aunt Hazel on her right.

This morning we all attended services at the large church on the campus main quadrangle. The highlight was a performance by the Bahandi Singers, a very accomplished choral group founded 22 years ago to spread the word of God through music. They have toured several times in the United States. After services the Bahandi invited us to lunch at a local Chinese restaurant. They brought their kids who ran around playing hide-and-seek behind the folding room dividers. One of the singers gave me a ride back to the hotel in his pickup. I rode in the back with the kids which was a blast.


I was introduced to "Bong" who knows a local cyclist who can give me some tips on local cycling conditions and suggested routes. Later Hazel, Hum-Ding (their dog) and I took a walk over to the tennis courts. For dinner Dave treated us in the hotel dining room.
8/28/2000 Monday - Singing Competition
We had breakfast in the Hotel again. Mom and I are usually the only customers.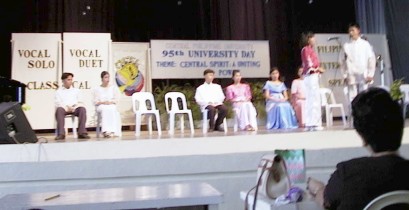 In the morning we attended a singing competition at CPU as part of University Day. The large auditorium was packed, mostly with students from the high school. The duet competition was taking place when we arrived. One couple from the high school were the clear favorites of the partisan crowd. (They won.) You could hardly hear the singing over the noise of the crowd talking.
Lunch was on the open-air patio of the Forest Cafe. I had sizzling bangus, milkfish shredded and seasoned. It started to rain as we ate but stopped before we returned.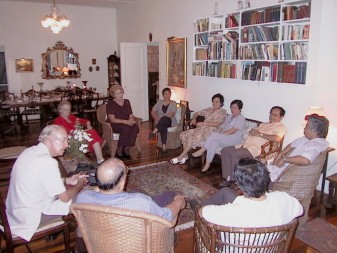 Dave and Hazel gave a dinner party in the evening for Dr. Acanto and wife, Rick Patricio, and two Vice Presidents, Juanito Falula and Walden Rio and their wives. Dr. Rio is head of the College of Engineering.

8/29/2000 Tuesday - Local Cyclists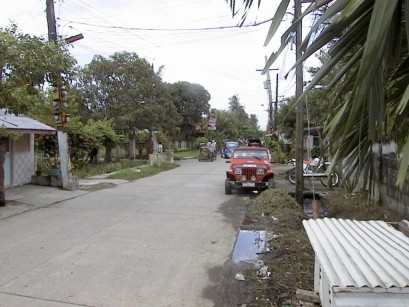 Uncle Dave arranged a meeting for me in the afternoon with three cycling enthusiasts, Bong of the Bahandi, Tirzo "boyz" (boy-zee) Jamandre President of "True Seeds Marketing" and John Paul Kenadera (?), owner of Iloilo Unicycle Supply. They gave me some good tips on routes for my Panay tour and invited me to their Sunday morning ride on Guimaras Island. We meet at 7:30 at the dock.

The photo at right is of the street that leads from the hotel to CPU.

Afterwards we went back to the Stuarts' so Mom could use their computer to type up her speech for the upcoming memorial service for my grandparents. Dave and I took Hum Ding for a walk.

8/30/2000 Wednesday - My Grandparents' Memorial Service
Last night Mom slipped on the bathroom floor in the middle of the night and bruised her tailbone. She's sore but OK. Lunch was at the Amigo Terrace Hotel buffet: Good food but not a large selection.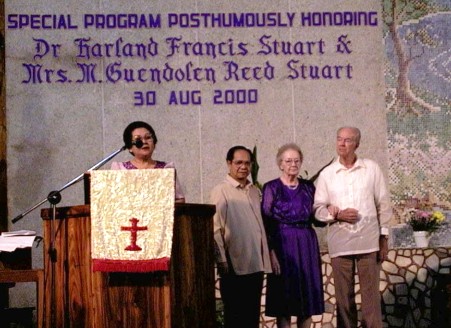 That evening the university put on a memorial service for my grandparents, Harland and Guendolen Stuart. Sonny Proximo gave a tribute, speaking for his recently-departed father, a close friend of the family. Mr. Catedral read a tribute from his mother Esperanza Catedral and Mr. Viray spoke as well.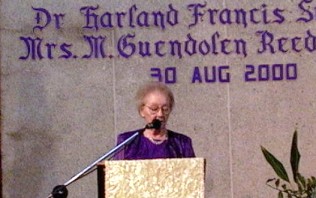 Then Mom gave the speech she had prepared. Later she told me she was afraid "I made a fool of myself" because she stumbled and fell exiting the lectern. I didn't think anyone else felt that way.
The award was presented to Mom and Uncle Dave, who then gave an acceptance speech. The Bahandi Singers performed several selections and Aunt Hazel sang two classical pieces with piano accompaniment. (Hazel was on the BBC solo singing panels and has taught at London College of Music.) Afterwards at dinner the Bahandi treated us to another selection, "Song of the Ilonggos".

Dr. Rio introduced me to Dr. Armadillo, Assistant Dean of the College of Engineering who offered to show me around the engineering facilities. (I am an electrical engineer with Agilent Technologies.)
8/31/2000 Thursday - Another Memorial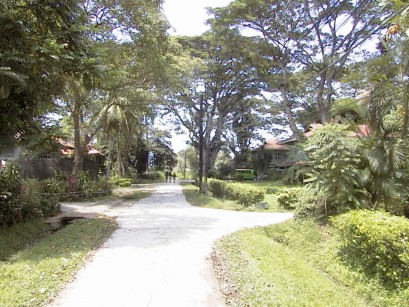 After breakfast we went to have Mom x-rayed. No broken bones or dislocations. She got some pills to reduce the swelling, which should reduce the pain. For lunch, we had some good Bavarian-style food at a local German restaurant. The German owner is kind of an ox, but the Swiss chef is very personable and an excellent cook.

The photo is of the street leading to Dave and Hazel's home (at the right at the end of the street).

In the evening was a memorial service for Johnny Proximo, a wealthy real estate developer who was Dave and Hazel's sponsor to come to the Philippines. He was Dave's best friend as a child. The service was a very emotional experience, for Hazel especially.

9/1/2000 Friday - Homecoming Queen
After breakfast I walked down to the laundry to leave my clothes to pick up in the afternoon. It cost 75 pesos (less than $2) for washing, drying, and folding.

Later I walked to downtown Jaro to do some shopping. I checked out a "JolliBee" hamburger joint. Prices ranged from 20 to 55 pesos (50 cents to $1.30) for a burger. The combo meals were mostly around 30 pesos. The Philippines is one of the few countries in the world where a local fast-food chain has beat out McDonalds.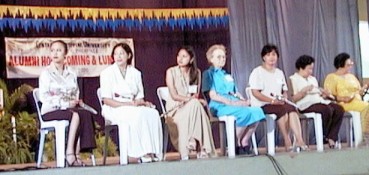 Central Philippine University includes a high school on campus. Mom is a graduate of the class of '35. For University Day, the high school alumni were meeting in the second floor of the high school building. Dave warned us that most of the food was already gone and Mom would have trouble with the stairs, so we just bought food from one of the stands and ate it sitting on a bench outdoors.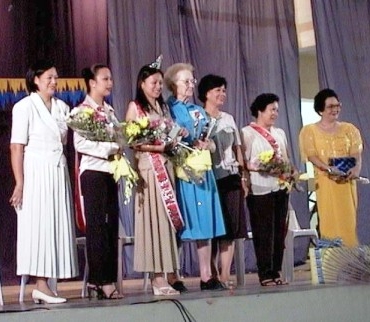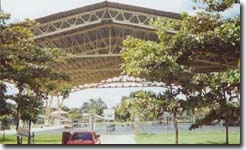 Since quite a lot of walking was involved, Dave procured an old funky wheelchair for Mom. Later in the afternoon, a nice new wheelchair was delivered to the hotel and I used it to transport Mom to the alumni celebration taking place in the "covered gym", a large open-air concrete-paved area under a gigantic roof about 50 feet high.

Mom was asked to represent the high school alumni as their candidate for Alumni Queen! Each candidate was escorted to the stage by a uniformed cadet and had to answer a series of questions by the (comedian) Master of Ceremonies. Mom cracked a few jokes that were well-received. When asked what was her reaction to being chosen, she replied, "Gee whiz!" A memorable line - I think many Filipinos may not have been familiar with that Americanism.


Everyone voted for their candidate by donating to the CPU 2000 fund. The highest school got 6000 pesos and the lowest 400. The high school got about 1000, so Mom did pretty well. She is supposed to return tomorrow for the talent competition. She's thrilled! :=)
9/2/2000 Saturday - University Day
After breakfast with Mom, Dave and Hazel, Uncle Dave and I went downtown to the "SM" shopping center. I notice that imported items cost about the same as at home. For example, Right Guard deodorant was going for $3 and 36-exposure, ASA-400 Fuji film for $3.30.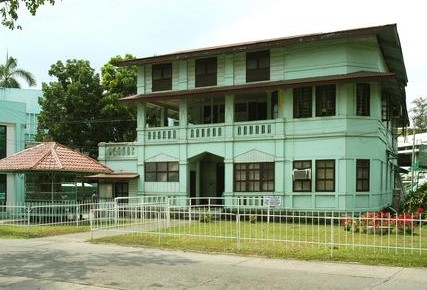 We got back just in time to head over to the Rose Memorial auditorium for the rest of the alumni program. It was mostly boring - introduction of officers, etc. But they also had the end of the Miss CPU contest. Mom, representing the high school alumni, came in fifth with 7360 pesos.
The photo is of Stuart Hall on the CPU campus. This is the building Mom and my grandparents lived in back in the 1920s and 30s. It is one of the few campus structures that survived the Japanese occupation during World War II. Today the first floor serves as the University store, with offices on the second floor.
It's starting to get a bit old eating the box lunches they give out at these events, so Dave treated us to the buffet at the Hotel Del Rio again tonight.

9/3/2000 Sunday - Bike ride on Guimaras Island
My Guimaras ride is covered in the cycling section of this report.
9/4/2000 Monday - Bavarian Restaurant
On the ride Sunday, one of the guys mentioned that the Director of the Department of Tourism is a cyclist. Dave knows him well, so we went today to see Edwin Trompetta at the DOT. He gave me some good pointers.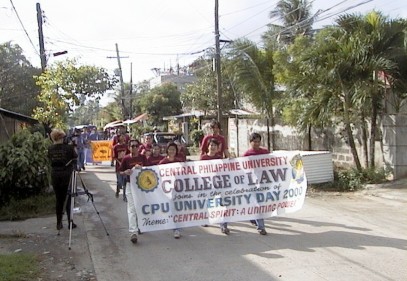 We also tried to see Dr. Armadillo, Asst. Dean of the CPU School of Engineering, but he was tied up in meetings.
We had another delicious lunch chez Stuart prepared by Sueda. They were complaining about the toughness of the meat, but I thought it tasted great.
Dinner was at the Bavarian restaurant again. We lucked out since Monday is normally the Swiss chef's night off, but he was filling in for vacationing employees.
While the doorman/guard went to fetch us a cab, I was talking to the chef who had come outside. He said they pay 3500 pesos/month to the security company. After deductions for gun and uniform, the guard nets P2500/month, about $55.

9/5/2000 to 9/10/2007 - Bicycle Tour
To continue this account chronologically, jump to "Day 1" and then return here after Day 6.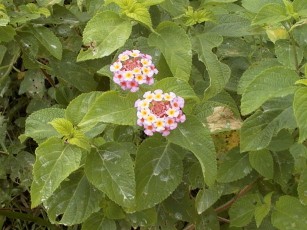 At 9 AM Dianne and Dennis Plourd picked us up for a trip up the coast in their CPU van. They are one of two missionary couples with the Baptist church. There's a new coastal road north of Iloilo that we followed as far as Dumangas. Where the pavement ends we cut over to Dumangas so that Hazel could buy a fish to use as a prop in their documentary on pollution.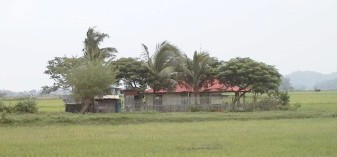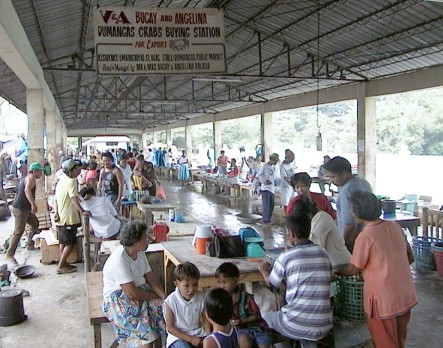 The fish market had stalls with all kinds of items for sale. Mom found a bamboo backscratcher for her handyman/friend Randy. When we went looking for a toilet for Mom, I was pleased that I was able to translate the sign on the door in Ilonggo, "Pahibalo palíhog sapatos sandals sulód kasilyas. Salámat." = "Attention! Please remove your shoes and sandals before entering the toilet. Thank you."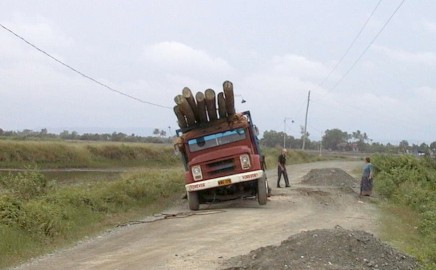 Looking for some good seashore for filming, we ended up driving on a dike out in the boondocks (a good Filipino word!). They were hauling logs (probably shipped from Guimaras Island) and one of the trucks got stuck. Hazel also needed some log footage, so it worked out perfectly.
We went as far as Barotac Viejo, but since the rain was getting heavier we retreated back south for drier climate. We had lunch at a place that specializes in barbecued native chicken, served on a bamboo skewer. It was good, but you don't get much meat on those scrawny little birds, so I ordered a second noodle/meat dish.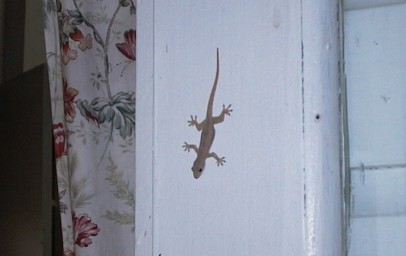 In the afternoon we took a cab to Guisano City, a shopping mall where Mom found some more back scratchers. There was a handicrafts store there, but it looked like everything was factory-made. I did buy a souvenir Iloilo wall hanging.
Dinner was at the Stuarts'. I finally got to see the Tiki (lizard) do his trick of darting out from beneath the lazy susan to snatch a crumb of food from the table.

9/12/2000 Tuesday - Shopping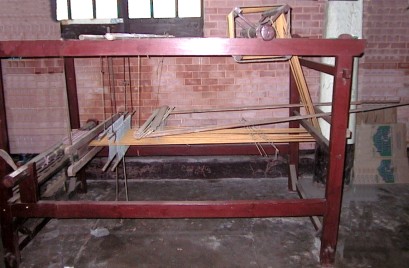 We went shopping again this morning. Iloilo Shell Products Co. is apparently out of business so we went to a sinigong (textile) store where Mom bought a caftan for her friend Betty and I bought a scarf and blouse for Sue. They let us see the loom they use to make the cloth.

We had lunch at the Del Rio Hotel with the computer technician who helps Dave and Hazel with their computer problems. He is in partnership with a guy starting up a company to make electronic scoreboards.

I wrote thank-you notes to half a dozen people who have helped me and Mom. I gave 300 pesos each to the doormen for taking such good care of Mom and her wheelchair and P200 and P100 to the two receptionists since one went out of her way to help Mom with getting medical supplies.

9/13/2000 Wednesday - The Electronics Lab at CPU
This morning Dr. Rio and Dr. Armadillo showed me around the electronics lab. Student workstations consist of a B&K or other function generator, inexpensive analog oscilloscope, and a little test board with built-in power supply and simple function generator. They only have one 500 MHz spectrum analyzer, no logic analyzers, and no network analyzers.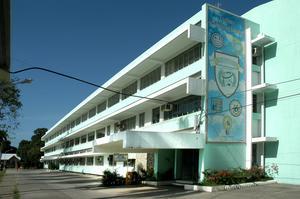 The computer lab includes a PC at each position - I'm not sure what vintage. That lab is used for student homework assignments.
My company, Agilent Technologies, makes electronic test equipment. I suggested that perhaps I can arrange to donate some used equipment to CPU. Getting it through customs might be a problem. Perhaps in balikbayan boxes? He promised to email me a list of what kinds of equipment are most needed and procedures for shipping.
There are 1007 students in the College of Engineering (of 17,000 at CPU), and about 60 faculty and staff.


That's the end of my diary. We flew back the next day, but I don't remember any more than that.