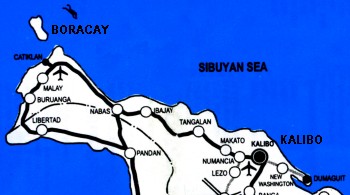 Friday 9/8, Boracay to Kalibo
45 miles


"Children soldiers"



It took me quite a while to figure out how to get off Boracay Island. The fellow at the hotel said just go north down the beach to the boat station. But when I stopped to ask directions, the lady said the boats only land on the east (leeward) side this time of year because of the surf. On the way across the island yesterday, Ray had led me through a maze of narrow paths between the shops and restaurants. When I tried to find my way back I kept hitting dead ends.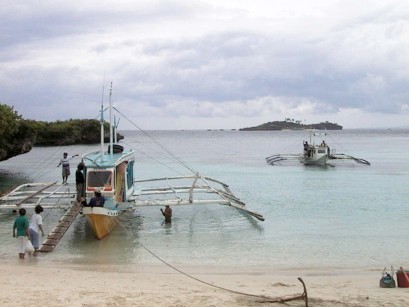 Finally I decided to pay a "tricikad" (bicycle with sidecar) to lead me there, but I couldn't seem to make them understand what I wanted to do. However, a fellow standing nearby gave me directions that involved following the main road at the center of the island to the far south end. The route turned out to involve a lot of rutted rocky road, and even the main paved part had many wide deep puddles that I had to ride through. Amazingly, though, I have yet to get my shoes wet (as of 6 PM Friday) despite 3 pump boat crossings and numerous rain showers.
Getting the bike on the boat was a chore, especially barefoot. Same thing getting off. I definitely do not recommend taking a fully-loaded touring bike by boat to Boracay. It was nearly 11 AM by the time I finally got on the road at Caticlan.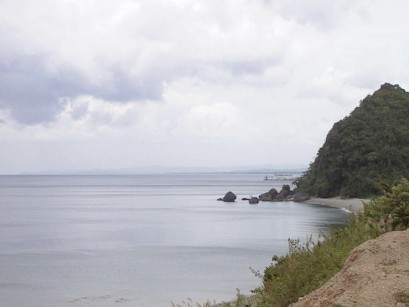 There was a fair amount of climbing today, but I was mostly on paved road all day. There are some spectacular views of the ocean from the tops of the hills.
Both today and yesterday I had occasional requests for "Money!" from passers by. This only happened on the road from Pandan and between Caticlan and Kalibo. i.e. the routes the tourists take to get to Boracay.
At home I never give money to beggars. I figure most of them are drug or alcohol addicts so I'm not doing them a favor by financing their habits. I prefer to give where it will do some good, so I make a substantial donation to United Way each year. There are lots of beggars on the streets of Iloilo. I suppose the majority of them are not addicts - just very poor. Should I give or not? I still feel I'd rather support the working poor rather than the beggars. Tipping is not common here (outside of the big tourist areas), but I do it anyway even though the recipients often act surprised and embarassed.

At one point today I passed a large crowd of school children walking by the side of the road. There's certainly nothing unusual in that, except that they were carrying wooden rifles. The looked like pre-high-school age. Military training must start early here.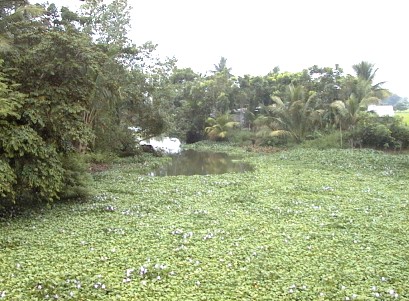 Just before Tangalan I stopped at a bus stop in front of an elementary school to rest, drink water, and eat some bread. A man, who turned out to be the principal, came out to chat. I commented on how many schools I had seen on my travels and that I had read that Filipinos are very well-educated. He said that elementary and high school is free in the Philippines, so the high school graduate rate is about the same as in the US. They all learn Tagalog and English in school, so most Filipinos are tri-lingual. I told him the old joke about that, which he thought was pretty funny. (What's the word for someone who speaks three languages? "Tri-lingual." Two languages? "Bi-lingual." And the word for someone who speaks one language? "American.")
Somewhere along the road today I noticed a sign with a quote from Booker T. Washington. "No race can prosper till it learns there is as much dignity in tilling a field as in writing a poem."
I decided I wanted a really good hotel tonight and the guidebook recommended the Hibiscus Hotel as the best in town. I inquired at a photo-processing shop and was informed it is "closed already." There was a Philippine Airlines ticket office across the street so I asked them for a suggestion. They sent me to the Beachcomber Inn. It's the first hotel I've encountered in the Philippines that is fully up to western standards. A/C, TV, hot water for the shower (but not for the sink). Reasonably-large room, nicely furnished. Everything works. And there are two big, clean bath towels provided! Luxury at 1000 pesos ($22.47) a night. And they take credit cards (with a 10% surcharge).

And tonight I had my first really good meal since I left Iloilo. The desk clerk sent me to the Mix 'n Match restaurant, a 10-minute walk away. I had pancit molo soup (a 1/2 order - a large tureen) and curry chicken, both of which were excellent, plus rice, a Coke and an iced tea (taking a chance on the local water.) The soup and chicken were a bit spicier than the normal bland Filipino fare. The tab came to all of 208 pesos ($4.67). About the price of a McDonalds value meal back home.