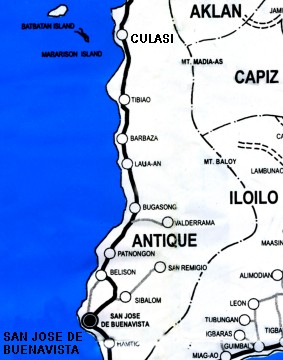 Wednesday 9/6, San Jose to Culasi
61 miles


"A Bike Accident"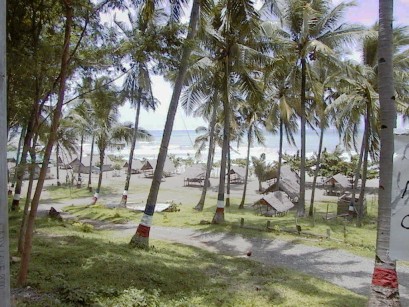 In the morning I felt weak, probably from lack of food yesterday. So I took my time getting up. They knocked at my door at 6:45 to deliver breakfast. It consisted of a big bowl of rice, two fried eggs, two crab cakes and two large pieces of fish. There was so much, this big eater couldn't even finish it all.

After re-packing the panniers and getting ready to leave, I went to pay the proprietess. We sat and had a long discussion of my life history. It was just as well to sit awhile and let my breakfast digest a little longer. I finally got away around 9 AM.

I took it very easy today -- 12 mph on flat ground, with a tail wind most of the day. I had headwinds yesterday; the winds seem consistently to be from the southwest.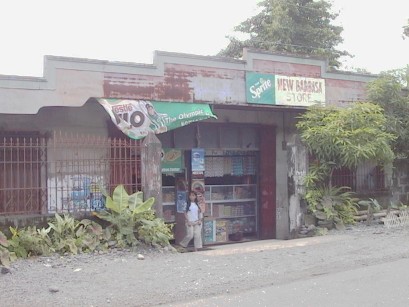 I'm still getting lots of "Hey Joe!" wherever I go, even more than yesterday. I stopped at every little store to buy Cokes and rest. Of course you are expected to go inside and sit down, which means getting into a long conversation. There's usually at least one person with good English. In Belison, I talked with a fellow who has relatives in Iceland, of all places. I imagine those long cold winter nights must be tough for someone raised in the tropics.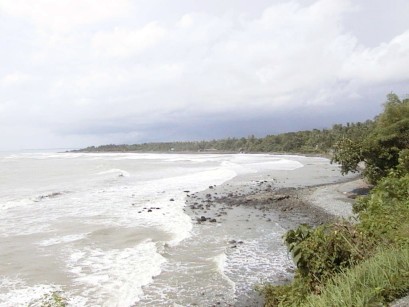 I saw a bicycle accident today. Usually I am faster than the other bicycles on the road despite my relaxed pace. But today two kids on BMX-style bikes passed me and shortly afterwards one of them ran into a small kid walking to school. Both of them went flying, so I stopped to see how badly they were hurt. Fortunately kids are much sturdier than adults. After a couple minutes and grimaces of pain, but no crying, the school kid continued on his way and the other kid got back on his bike and rode off. I followed him for quite a way so he must have been OK.
Somewhere between Patnongon and Bugasong I stopped at a little restaurant for lunch. I had palay (rice) with utan (mixed vegetable topping). The silverware was stored on the tables in cups filled with water. I'd like to believe the implements are washed before they go into the cups of water, but I didn't chance it. [I later found out the glasses are filled with a disinfectant.] I went back out to my bike and got my camping fork and spoon.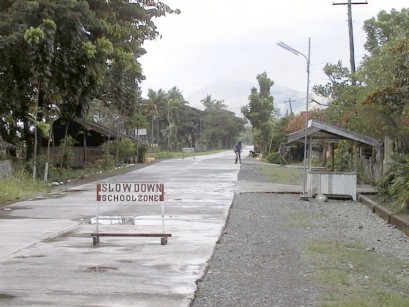 The restaurant was right next to an elementary school so when I got ready to leave I found a circle of curious kids around my bike. I had a rapt audience as I rinsed off my spoon with a water bottle and refilled the water bottles and my 1/2 gallon water jug with bottled water bought at the store next door. (It is quite amazing how incredibly delicious ice-cold water can taste after a day of cycling in the heat and humidity.)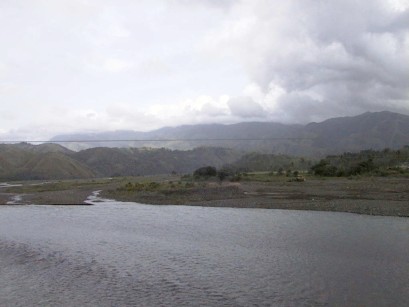 In Bugasong I stopped again for a Coke and got into a long conversation with an older gent with a big gap in his front teech and arms the thickness of broomsticks. Actually I suspect he may not be much older than I, but has led a harder life. He has some connection with a Mr. Martin at CPU. I think he said he went to high school or elementary school there.
As I came into Laua-an it started to drizzle so I popped into a store just as the sales lady ran out the door to help pack away the rice drying on a mat across the street. She did eventually come back in and sell me a Coke and some sweet bread.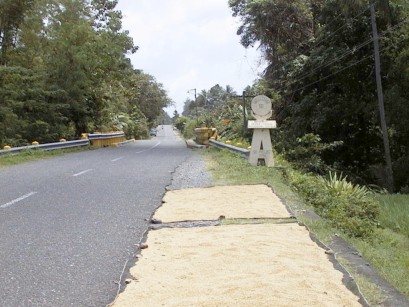 You see these mats of drying rice everywhere along the side of the road, and also ON the road so vehicles have to drive around them. Rice fields seem to cover every available cultivatable hectare, but I read in the paper that the Philippines still has to import some rice from abroad.
At about this point in the journey, the pavement was often interrupted by unpaved stretches, until eventually it disappeared completely, and stayed that way almost all the way to Culasi. I'd say about half my riding today was on dirt despite being on the main coastal road. It's not bad to ride on with a mountain bike and I think a good touring bike with fat tires would have been fine too. Occasionally a big bump would cause the clip at the bottom of the Ortlieb panniers to become unhooked. I need to figure out a better mounting system.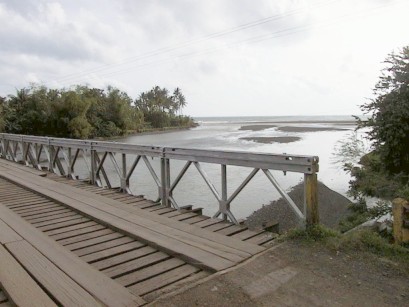 Most of the bridges on this side of the island are the kind with two sets of 3 wooden planks (a car-width apart) running parallel to the direction of travel. If I had a narrow-tired road bike I would worry about catching a wheel in a crack, but it's no problem with fat tires.
On the outskirts of Culasi I got caught in another rain squall, and a bunch of people invited me onto the front porch of a store to sit it out. As usual, I had to tell all about where I was going, why I was in the Philippines, where I am from, etc. People don't seem to assume I am American. So far they have guessed British and Australian. American tourists must not be common here.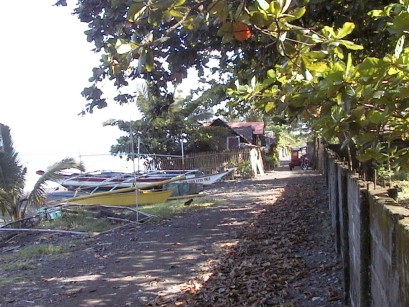 Boyz Jamandre had suggested I stay at the Xavier Hotel. I had some trouble finding it -- it's just across from the public market, one street to seaward from the main drag. For some reason, the big sign on the street says "Casa Juancho" -- You have to go a few yards down the alley to find the door with the sign that says "Xavier Hotel."
Unfortunately they had no room available so they directed me to the "CDCR" (Culasi Development Center and Resort). They told me to continue (South) past the market to the end of the street, turn right then left onto an unpaved sandy path. I passed a row of nipa huts (probably squatters) on the right between the path and the beach and then there was the CDCR on the left behind a cement block wall.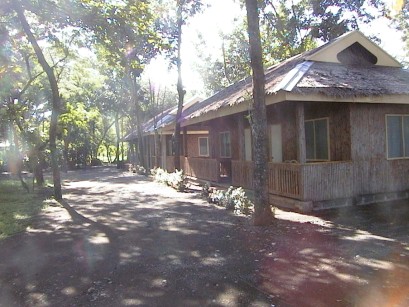 The place is apparently used for some kind of events as well as lodging because there are a couple of outdoor covered meeting areas on the grounds. The thatched-roof lodging buildings are in a lovely setting with a gorgeous view of the ocean.
I wheeled my bike through the gate and eventually found the lady who showed me my room. The room is spartan. Of course there is no a/c, TV, phone or hot water. The bare walls are lit by a single fluorescent light fixture in the ceiling. The furniture consists of two wooden beds and a small table. Still, the room is good-sized and a cold shower is just what I need after a day of cycling in the heat. The ocean breezes and a wall-mounted fan keep me cool enough. Price is 300 pesos ($6.74) a night.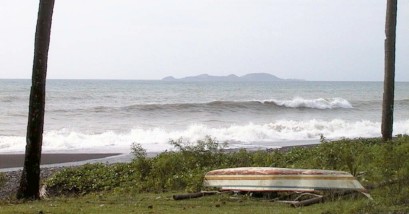 After showering and changing I walked into town and ate at one of the local greasy spoons. If these towns have any nice restaurants, I haven't been able to find them. I had a double portion of spaghetti and a Pepsi. The fork arrived already stuck into the food so I just went ahead and ate with it. The place looked clean enough.

It was getting dark by the time I finished. After walking back I spent a few minutes standing on the beach in front of the resort in the moonlight admiring the lightning from a storm far out to sea. It was far enough away that I couldn't hear the thunder over the roar of the surf.