July 15-22, Oaxaca
7/24/06 Monday - Cooking class
This was the first day of week 1 of section 2A, the third of the 6 levels of Spanish instruction offered at the Instituto. In the afternoon I had my first cooking class. (!) Today we took the bus to the mercado and the teacher explained the items for sale in the various stalls.

Tonight I paid Alejandro for the first 8 days. It turns out he is leaving on a hiking trip tomorrow morning and will return Sunday. I think I will delay the start of my tour until Sunday so I can see him before I leave.
7/25/06 Tuesday - Acceptance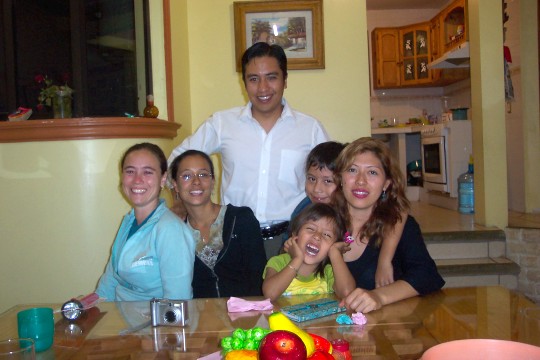 8:50 pm. I guess I'm finally officially accepted into the household. The two kids just wandered into my room and we had a little chat.

The two French girls left this evening for Chiapas. They finally hooked up with Jackson who just came back from there. He was able to give them some hints about the weather and the long bus ride. In the photo are Vanessa, Coralie, Alejandro, Dennise, Alejandro junior, and Monica.


Alejandro's father dropped in later with his wife and other grandson. The two boys raised quite a racket playing "soccer" and "basketball" in the living room.
7/26/06 Wednesday - Fiesta
After the afternoon class we had a little party at Kimberlee's apartment. (She is a Spanish instructor at the SRJC and the leader of our group.) Karen and I rode the bus directly from cooking class. Shortly after we arrived a thunderstorm blew through. It stopped raining before we left.

Kimberlee has a very nice place just down the street from the Mercado de Artesanias. Her 15-year-old son Kameron is with her. He has been studying Spanish since the age of 6 and is completely fluent. Kimberlee also invited Michael, another student staying in the same building who happens to be one of the students in my class.
7/27/06 Thursday - Farewell dinner
I think I forgot to mention that Monica told me the other day that they will miss me when I leave. Jackson leaves on Saturday and this morning she commented that it will be sad when both of us are gone.

After class I did some shopping downtown. I bought a razor at a farmacia. I bought a book of Graciela Iturbide prints as a thank-you gift for Monica and Alejandro. Previously another student gave me some stickers that I can give to the kids, and I'll give my two Sonoma County postcards to the neighbor who let me wait in his apartment the night I arrived.

The SRJC group had our going-away dinner at La Olla restaurant tonight since some are leaving tomorrow night. I think this was the first time that the entire group was actually together in one place at the same time. I sat next to Leslie and bought her a little bouquet of flowers from a vendor walking among the tables. After the (two-hour) meal she and some of the others went to the Candalaria for salsa dancing. I went back to the house and finished my homework.
7/28/06 Friday - A baseball game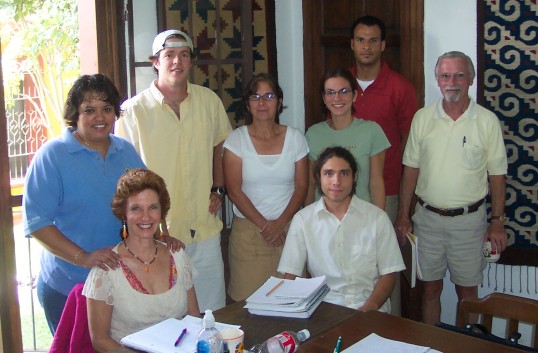 The Instituto put on a little fiestita for the Santa Rosa group after class this morning. Cake and Coke. The photo is from my last class session. Standing from the left are the teacher Maria, Brian, Mary Lou, Hanna, George, and Michael. Sitting are Caroline and Tony.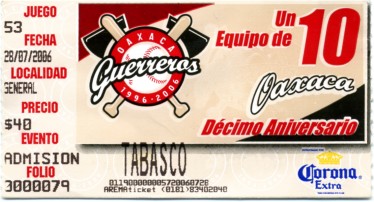 This evening five of us plus Leonard and Zinny, a couple from Mountain View who were in my cooking class, went to a baseball game. The Oaxaca Guerreros were playing the Tabasco Hormigas (ants!). The stadium is large and well-appointed with the usual visual and sound effects, cheerleaders, and team mascot. I bought a Guerreros team jersey for Sue. They only had children's sizes or I would have got another one for myself for 200 pesos ($18). We left during the seventh-inning stretch with the home team ahead 14 to 4.

7/29/06 Saturday - The mercado
I went down to the mercado in the morning and bought some apples, bread, and honey to take on the bike tomorrow. I also bought a box of Mayordomo chocolate to take home.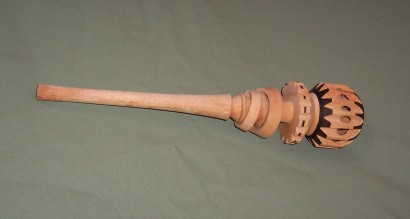 Before dinner, Alejandro's father Benito invited me to ride downtown with him in his car. We went back to the mercado where he and Alejandro each have puestos (stalls) selling fish and aquariums. We wandered around the mercado a bit and he offered to buy me a nieve (Oaxacan ice cream) but I wasn't hungry. I did mention that I wanted to buy a molinillo (hand-made wooden stirrer for hot chocolate) so he bought two and gave me one.