August 3 Thursday, Rio Grande to Pinotepa Nacional
I wasn't feeling well last night - stomach problems again - so I went to bed at 7 pm. This morning I felt better but was weak and couldn't eat. That's not good when you have a bike ride to do.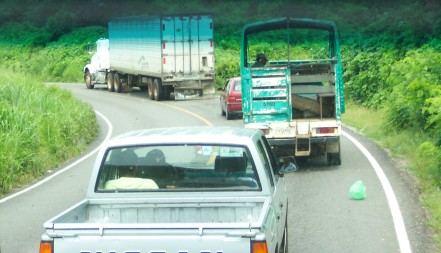 My plan had been to ride to Jamiltepec today and Pinotepa Nacional tomorrow. I thought about just staying here in Rio Grande an extra day but I'm getting low on cash and I need to get to a town with an ATM. So I'll take the bus today to Pinotepa. That will put me a day ahead of schedule in case I need another rest day. It does mean I'll miss market day in Jamiltepec.
I found the station of the Estrella Blanca bus lines and left about 10:00. The fare was 42 pesos and the driver charged me an extra 38 pesos for the bike ($7.20 total). Traffic seemed heavier than the last couple days and the road is narrow and gets curvy as you approach Pinotepa.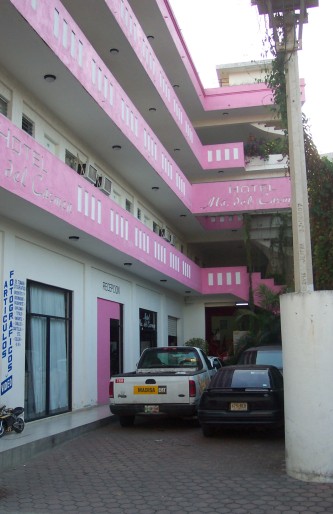 From the Pinotepa bus station to the center of town is about 3 km. With no breakfast, riding even that was a little tiring. I'm in the Ma. del Carmen hotel. I think it's the same as the "Carmon" in the guidebook - at least it seems to be in about the right location. It's a nice room with air conditioning for 225 pesos ($20). It has hot water and the shower actually has a door!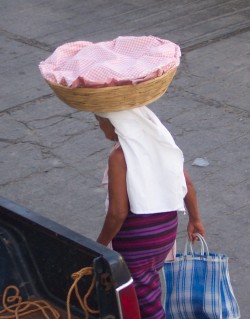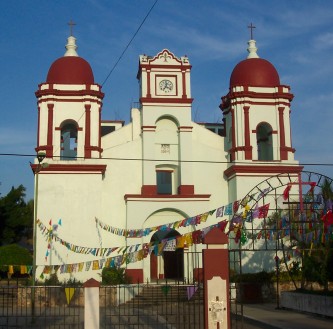 I had lunch at "Burger Bonny" down on the plaza. I figure if my stomach can handle a greasy burger and fries it's back to normal. There's an American-style supermarket on the NE corner of the plaza. I found some peanut butter, which is rare in Mexico. Also I bought some jam that appears to be peach but is labeled chabacano rather than durazno. [I checked my big dictionary when I got home. Chabacano is the Mexican word for "apricot". In Chile and Argentina "apricot" is damasco and in the rest of the Spanish-speaking world it is albaricoque.]
I went to a telephone larga distancia shop and was finally able to get through to Monica. She told me to be careful and drink lots of liquids.
Dinner was chicken mole at the Fonda Toñita.