July 30 Sunday, Oaxaca to Mihuatlán


64 miles, 1755 feet of climb, 5499 ft max. elev. (200 ft/div)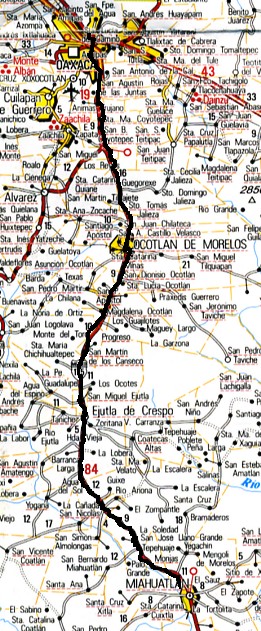 Monica wasn't sure when Alejandro was going to arrive so I went ahead and paid the bill for the second week. I told her that when I get back I would like to take the whole family out to dinner. When I left, Monica told me to be careful, gave me a hug, and said "¡Que le vaya bien!" I got away about 8:30.
There was some kind of run or foot race going on in Oaxaca this morning and the police had traffic stopped in several places. One nice thing about being on a bicycle is that you can get off and be a pedestrian for a few minutes to get through.
I stopped in Ocotlán to buy a Coke and sat in the plaza to drink it and look around. Later I stopped for another Coke and a couple cookies at a Pemex gas station that had a convenience store. Gas here costs about US$2.50 a gallon, about 20% cheaper than at home in California.
I got my first [and only] flat of the trip. My Silca frame pump was apparently damaged in transport on the plane - there's a small crack in the pump body near the head. I put some tape around it but it doesn't hold at high pressure so I have to use my emergency mini-pump to top it off.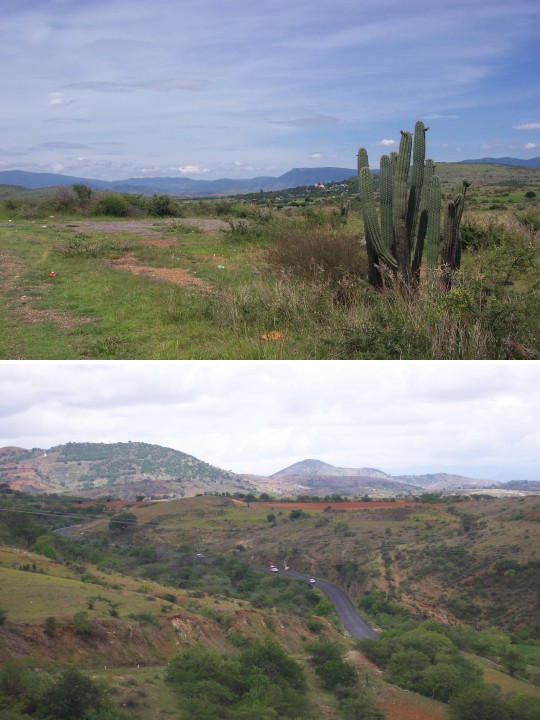 There was nothing today that would count as a "serious" climb, but the last half of the ride was continuous up and down. I feel like I have done a fairly aggressive metric century.
My hotel, Mision del Companario, in Miahuatlán is very nice for only 100 pesos ($9). It has a large bed, a small TV, and a bathroom with shower and plenty of hot water. It even came with towel and soap. There was no toilet paper at first but Bulmaro, the manager, brought me some later.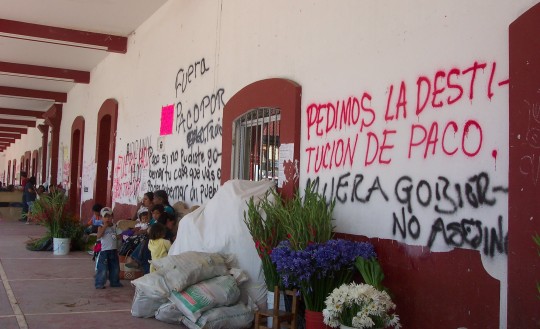 After showering and changing, I walked down to the mercado, stopping at a taqueria for a torta americano (ham, chicken, and cheese sandwich).
The market is adjacent to the town plaza, which looks like the Zócalo in Oaxaca in that there are graffiti, banners, and an information table for the protesting maestros.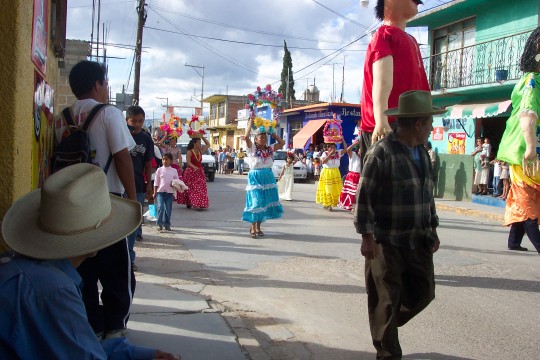 As I was writing the above I heard a commotion and rushed out of the hotel room with my camera. There was a small parade going through town with a brass band, a float, dancers, marmotas (giant dancing effigies), and horses. Some guy in a car leaned out the window and said something to me I didn't understand. I hope they don't object to photos as they did at the Mapuche Indian re-enactment in Chile.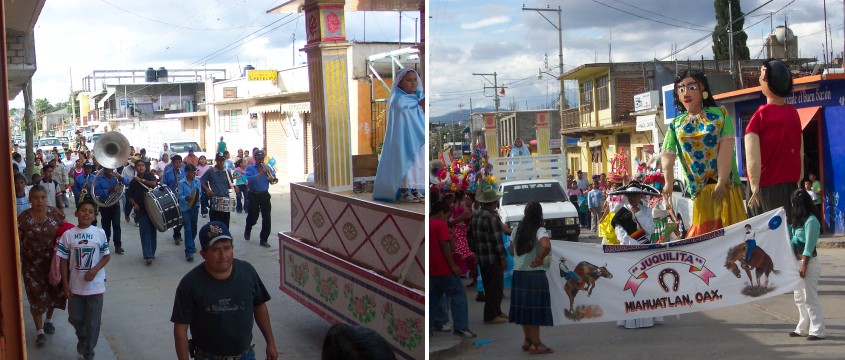 Later I had a long conversation with Bulmaro and his 19-year-old friend Leoneal, who wants to come to the US to work. I spoke for a bit with Leoneal in English. He has had three years of English in school but only one hour per week. He said this is the first time he has ever spoken English with an American. I suggested the best way to practice is to get an American girlfriend.