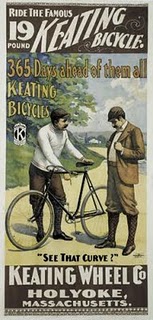 My Grandfather's 1912 "Tour"
It wasn't until long after his death that I learned that my grandfather, Dr. Harland Francis Stuart, had been something of a cyclist in his younger years. While cleaning out my mom's house after she died, my brother found a manuscript that my grandfather had written describing his early life. He was born in 1889 and began riding at an early age, sharing a bike with his brother Raymond. They helped with the family bakery business, delivering bread and pastries to customers, especially after their father died in 1894 and their mother got sick shortly thereafter. The bike "was awfully old, but it ran very easily as it was an expensive 'Keating' and better in the beginning than the new ones that other kids had. With two baskets on the handlebars delivery was speeded up."
He went on to obtain an engineering degree from Worcester Polytechnic Institute and a PhD from Harvard. In between, he spent a year as an instructor at WPI.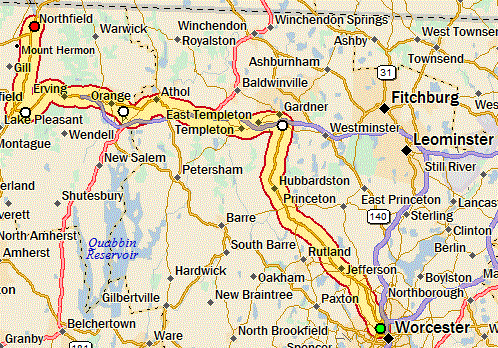 [A wild guess as to the route my grandfather took]
Trip Report
"Before classes began in September of 1912, a number of interesting events transpired. First I went to my second Northfield conference. It is about 70 miles from Worcester to Northfield, Mass. and I decided to go on my bicycle. The first seven miles, to Jefferson beyond Holden was a breeze. But, then I ran into some of the worst hills in Eastern Massachusetts. Besides that the roads were sand with no hardtop at all. Riding was very hard and walking was necessary part of the way.

When I reached Hubbardston I stopped at the home of an old-time friend of Mother. She gave me a piece of apple pie to eat and I rested for a few minutes. After 27 miles of this hill and dale and sand I came out on what is now called the Mohawk Trail. Here the road was good but the boy was not and I stopped to cool my aching limbs in a brook. The last ten miles was somewhat sandy and when I pulled into Northfield around six o'clock I was pretty tired. Clarence told me later that I acted tired for a couple of days."


[My topo software is based on modern roads, which may be less hilly than in 1912.]
Later that summer he met my grandmother. They married, had their first child (my mother) and not long afterwards moved to the Philippine Islands to work as missionaries in Iloilo.
Last updated 1/21/2019