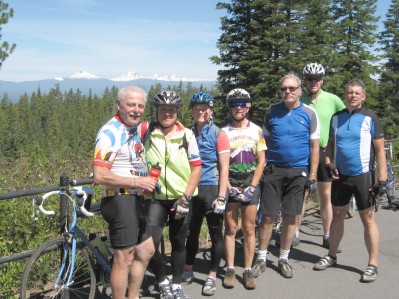 Monday June 23, Newberry Crater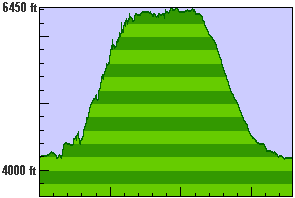 36 miles, 2782 feet of climb (200 ft/division)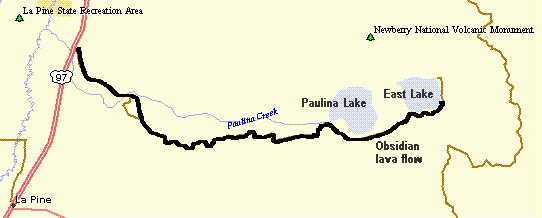 It's still getting very cold at night. However, I'm comfortable in my sleeping bag wearing socks, my cycling tights, a T-shirt, and a hooded sweatshirt with a knit hat under the hood. Poor Beth is trying to sleep on an air mattress which gives almost no insulation from the ground. The cold keep her up the past two nights. Tonight Alfred will loan her a Thermarest mattress which gives much better insulation.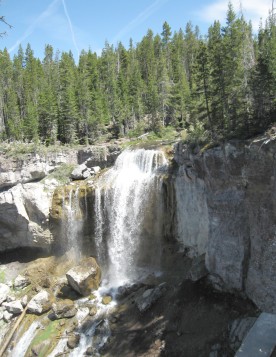 We had cooking duty tonight, so Sue and I drove Vin's truck (actually Margo's truck as she will remind you :=) 6 miles down the road. That not only made the ride 12 miles shorter, but the truck was then 6 miles closer to LaPine after the ride so we could drive to Ray's Market to shop. Alfred rode back to camp after the ride to start dinner preparations while Sue, Elsa and I bought food and ice. We managed to get Sue's famous stir fry ready by 6:30 or so, along with a salad and bread plus pie and ice cream for dessert.
We had another gorgeous day of cycling. It's a long, steady climb up to Newbury crater but never very steep. We stopped at Paulina Lake Falls for lunch and then again at the East Lake Resort at the top. The smooth, 9-mile descent back to the truck was sweet.