March 22 Wednesday, Puerto Saavedra to Tirúa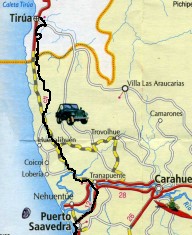 50 miles, 3212 feet of climb, 1165 ft max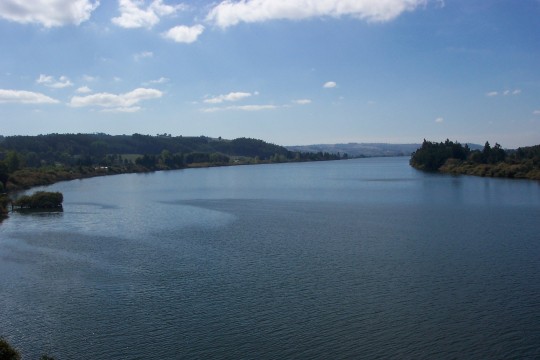 The first few miles were on pavement up the Imperial River valley on the road to Temuco. Then I turned left, crossed the bridge, and started up the coast on the last unpaved stretch of the tour.

The road seemed a little better today although there were more areas of thick gravel. Fortunately they had left a strip of old well-packed gravel on the shoulder for me to ride on. I did get two more flats, pinch flats this time. The last several miles before Tirúa were paved and before that they were working on paving the road. They had one lane done for a couple miles and were rolling the other lane in preparation. I wouldn't be surprised if the entire route from Pto. Saavedra to Tirúa is paved by this time next year.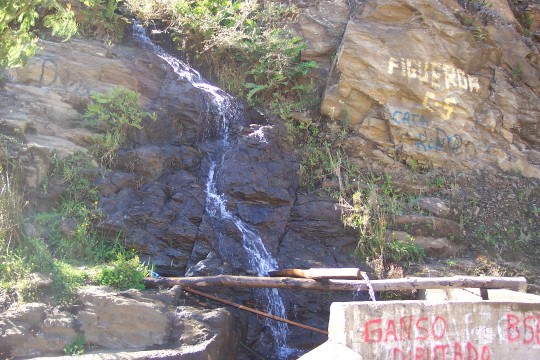 I stopped for lunch by a little waterfall. Someone had built a wooden trough to bring some water within reach but I didn't take a chance on drinking it.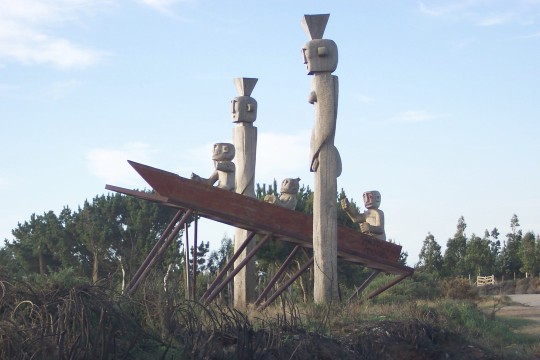 These statues looking out to sea are just a short distance before entering Tirúa.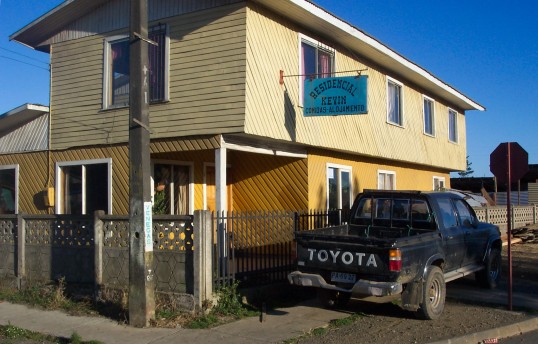 I'm staying at the Residencial Kevin on the NW corner of the intersection, right where the road north leaves town. It's the cheapest place so far, 4000 pesos (less than $8). The bed is a foam mattress placed directly on the wood slats. Yes, it's as uncomfortable as it sounds. Fortunately I can sleep on anything.
For dinner I found a restaurant on the second floor of a store down the street. A lady in the store took me under her wing and led me upstairs. We had a nice conversation while I waited for my food. I'm not sure how she knew I was the cyclist that had ridden into town. Either she saw me or heard the rumor. Among other topics we discussed my idea of teaching engineering in Chile. She seemed to think that was a great idea.