6/30/05 Thursday, Minot ND 53 miles
Easy ride today - strong tailwinds the last half of the ride. It rained last night and was cold in the morning but then it turned into a nice sunny day.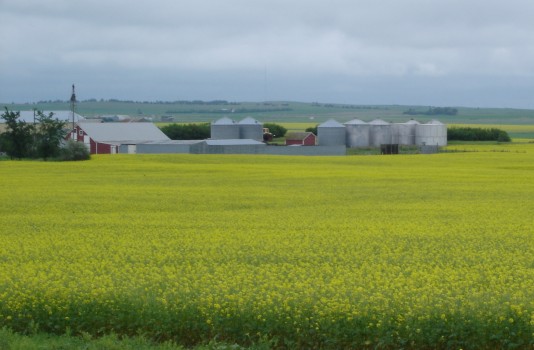 Thanks Brendan for the photo.
The local paper reports they had 11 inches of rain in June - an all-time record. There has been an annoying small leak in my tent's flysheet which causes a drip through the vent screen in the tent roof. So I bought a can of silicone water repellant in the camp store and sprayed the fly and bottom of each side of the tent. Now it probably won't rain again for the entire tour.
We're staying at the Rough Rider campground in Minot ND.
There was quite a shock at the map meeting tonight. Bill has decided to quit as tour leader. Maddy will be taking over. In the past, she has trained for and led a couple youth tours and has passed a wilderness first aid course. Apparently she interviewed with Adventure Cycling over the phone and accepted the job. I had noticed some intense conversations between Bill and Maddy the last couple days and some long phone calls that Maddy had been making, but I didn't guess what it was all about.
Bill has rented a van and will follow the group for a couple days to help with the transition, then go home. His friend John will also leave the tour. Bill says this is not due to anyone on the tour but he just prefers to tour his own way at his own pace.
We divided up Bill's group gear. I agreed to carry the tool kit. I plan to go through it and suggest changes to Adventure Cycling.

7/01/05 Friday, Minot ND 14 miles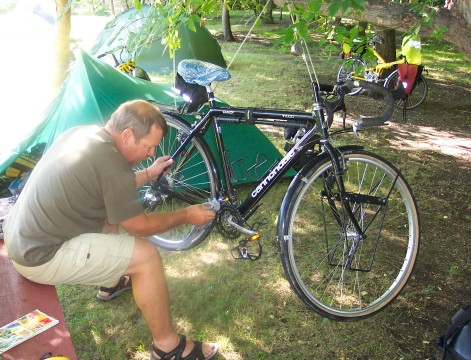 Layover day in Minot. Among other things, layover days are for bicycle maintenance. Here's Don with his homemade bicycle repair stand. I bought a tube at a local bike shop but I still couldn't find a suitable bar-mount mirror to replace the one I broke several days ago. I had borrowed John's spare Take-a-Look glasses-mount mirror and Bill says that John said I can just keep it. I checked my email at the library and printed out some information about the voluntary severance package my company has just announced.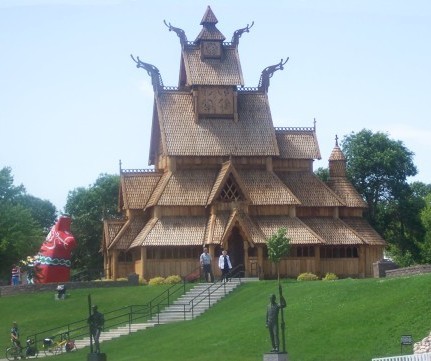 Some of us visited a replica Nordic stave church and also an actual circa 1700 house that had been moved from Norway.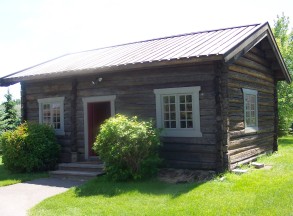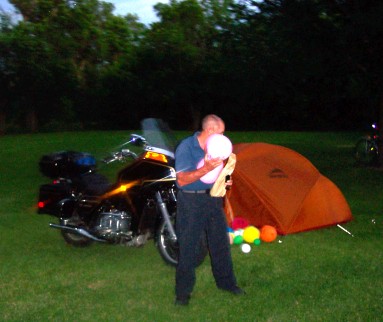 Bill bought a used Goldwing motorcycle which he plans to ride home and returned the van he had rented. At the library earlier today I had to leave my driver's license to use the Internet and forgot to retrieve it when I left. Bill kindly rode back and got it for me.

Maddy ordered pizza for dinner and everybody chipped in.

This was Bill's birthday. Jeanne bought a bunch of baloons and filled Bill's tent with them when he wasn't looking.