7/19/05 Tuesday, Crystal Falls MI 75 miles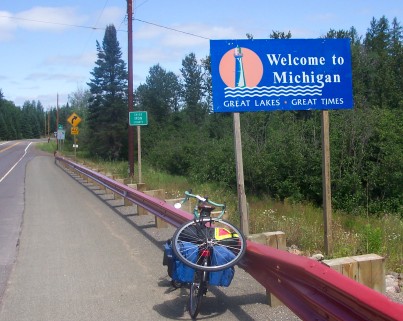 Another new state. I'm carrying the old wheel on the back of the bike so I can ship it back to Rivendell.

We're camping at Runkle Lake City Park in Crystal Falls MI. Hot showers! I washed my clothes and sleeping bag at a laundromat a mile down the road.

I had my first technical question on my work voicemail. I called and talked to a colleague for 15 or 20 minutes.

Don and I plan to get an early start tomorrow as it's another 70-mile day and we want to get to the bike shop in the early afternoon.

7/20/05 Wednesday, Escanaba MI 80 miles
Don and I left camp at 6:30 and arrived at Mr. Bike about 2:00. Both Don's and my wheels had arrived. By the time all the work was done, the bill was paid, the panniers were re-mounted, we rode to Staples/UPS, fabricated cardboard shipping boxes, shipped the old wheels, and rode to camp, it was 6:00.

We're at the Pioneer Trails county park in Escanaba. We did 80 miles today.