Tuesday May 28, Baker CA to Stateline NV
50 miles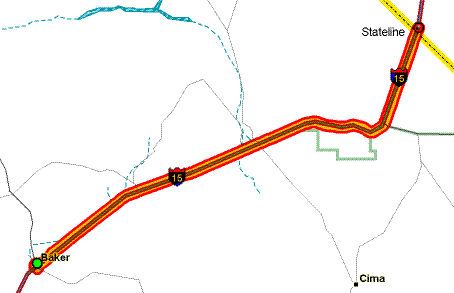 "Casino Night"
(Frank) We're at Stateline in Nevada. We waited in Baker until the hardware store opened hoping to get Alan a set of brake pads, and me a metric bolt. When the store opened they had neither. So Alan used the brake pad I made from an old car tire, and I held my front paniers on with a short bolt we had, and the front fender with tie wraps and tape. When we actually left Baker it was about 10:00 am, and the temperature was 81. We had mild winds from all directions. The worst winds we had were the 10 mph tail winds that exactly matched our uphill speed. For a short time we were having the same over heating problems as some of the cars.
The patches Alan and I put on last night did not stick. To make a very long story short, I ended up changing my front tire 7 times today, but never really had a flat.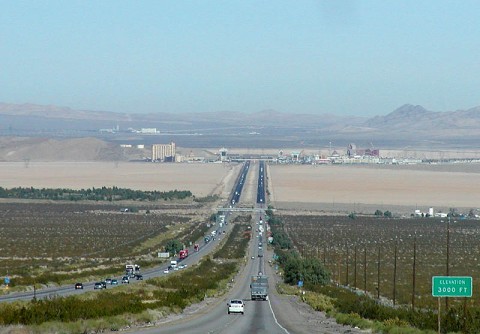 (Alan) If you are ever pedalling across the Nevada desert, be sure to stop at a casino. Even if you don't gamble, it's worth it for the $29 room (double occupancy) and the $10.50 all-you-can-eat dinner buffet (again that's the price for 2 people). State Line, just over the California border on highway 15, doesn't even appear on most maps. It has 3 casinos, 2 gas stations and a MacDonalds, all sitting out in the desert in the middle of nowhere. A couple years after our tour it was renamed to "Primm" to avoid confustion with another "Stateline NV" farther north.
(Photo of Stateline downloaded from Wikipedia)