Sunday May 26, Bakersfield to Mojave, CA
50 miles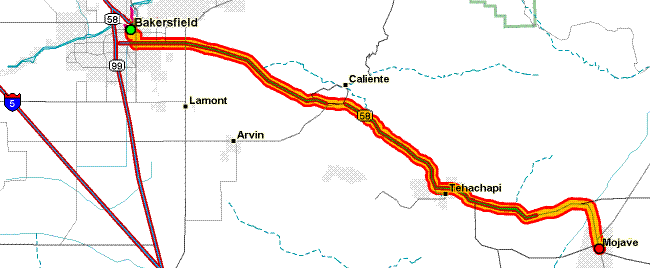 "The Mojave Desert"
(All Frank's comments today) We are in Mojave. Today's ride was the same distance as yesterday's with an additional 3000 feet of climbing. Thanks to the wind it was much easier. In the morning we had a 4-5 mph tail wind that matched our uphill speed. That made for a hot ride in the 80-85 degree sun. We raced a train for a while, and got another train to blow it's whistle. Some of the hills were covered with purple flowers, and we stired up ground squirels, rabbits, and lizards often 10 at a time. I have never seen so many animals living in a small area.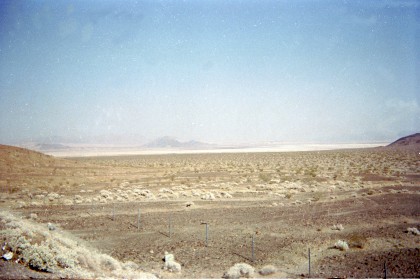 Once we reached the top, the wind filled in at 25-30mph. For the last 20 miles into Majave we spent most of the time spinning in our highest gears. If we had higher gears we could have gone faster. 30 mph with a very light wind in our faces. Since much of that was over nearly level ground, we were having a great time. The wind has continued for the remainder of the afternoon, and is predicted to return tomorrow. Sure hope they're right. If so, we will easily cover the 80 miles in about 3 hours! I know, don't count my chickens before they hatch, but it was so much fun. I can hope! I might also add, I covered the entire distance without a single flat. After tomorrow the stores will again open and I will replace the spare.
The photo is of Soda Lake, coming into Baker.

We saw one other touring cyclist today, and had MANY motorists give us a friendly horn toot. As we get further from towns and higher into mountains we seem to be getting more support. I'm still a little amazed at the lack of angry motorists on this trip. This is also the first time I have ever ridden long stretches on freeways. Except for the on and off ramps, they are great. Wide shoulders with plenty of room for the vehicles and bikes. We rode on them this time because there was no choice, but I may not try to avoid these so much in the future.