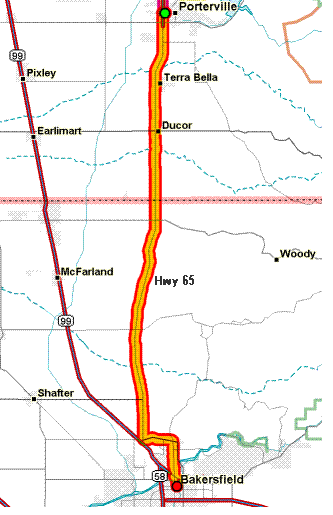 Saturday May 25, Porterville to Bakersfield, CA
50 miles
"An Interesting Proposition"
(All Frank's comments today) Today was almost a real rest day. We were only planning to ride 50 miles with very little climbing, and we did exactly as planned. If it weren't for the wind, it would have been an easy restful day. We are staying in Bakersfield, getting ready to go over the Tehachapi Pass. If the wind blows like it did today, with the same force and direction we should be able hold 15-20 mph over the pass. Anyone want to bet on the wind direction or magnitude?
We rode on highway 65 the entire way to get from Porterville to Bakersfield. We normally would have avoided such a busy road, but it had smooth, wide, clean shoulders the entire way. Traffic was a little heavy and included many trucks, but I would highly recommend this road. Not one of the most scenic rides, but a good route for bikes to travel on.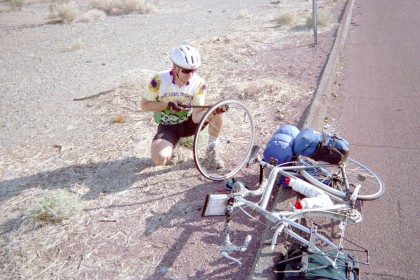 I'm still having problems with flats. Two more today making the total seven. I repaired the tube, and replaced the tire with my spare. I'm throwing the tire away (700x25 Continental Super Sport) since it seems to puncture very easily, and I will throw the tube away if it goes flat again without a reason. So far it is holding at 110 psi.
A female in a very low cut dress just knocked on the door and introduced herself. She then asked if I were by myself. When I said no she asked for a cigarette and went on down the hall. Something interesting finally happened today.