Friday May 24, Sanger to Porterville, CA
79 miles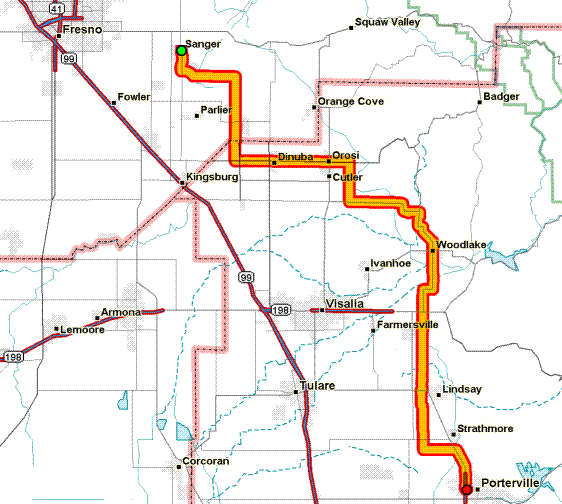 "You Guys are Crazy"
4:55:54 pm (Alan) Well our "short rest day" turned out to be 79 miles. But it was dead flat (410 ft total climb), plus we took it easy, so no sweat. The scenery is much less interesting here in California's Central Valley, but there are fruit stands everywhere with local produce, so we bought some peaches for snacking.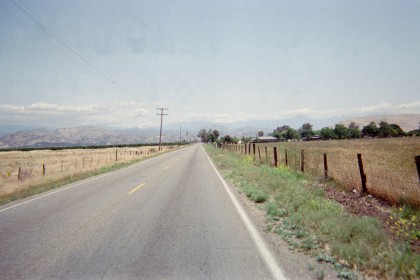 We met a couple local farmers at a quick stop gas station where we stopped for ice cream cones and Cokes. One of them asked "Where you guys going, Chicago? Ha ha." Nope, Pennsylvania. Our standard response to that question is "Oh, we're just riding over to Alan's Mom's house." And then wait for them to ask where that is.
Frank got his fifth flat tire of the trip. I haven't even had to add air to my tires yet. I'm not gonna gloat -- my time may come.
We've only seen one other pair of cycle-tourists so far, going in the opposite direction on a hill near Yosemite. I guess it's early in the season yet.
(Frank) Five flats in 500 miles. Not much of a record. One flat from a nail, one from glass, and one sticker. I could not find what caused the other two, If my record doesn't improve I should be able to cross the US with only 37 flats.
(Frank) We went to breakfast dressed in cycling clothes, and got the standard question. "Where are you riding from" followed by shock then "Where are you going to?" Well this morning we got our second "You guys are crazy." To my surprise almost everyone thinks it is great that we would take off 2 months and ride across the US. We consistently get enthusiastic support and best wishes for a great trip. Even the two that said we must be crazy wished us the best and wanted to know more about our trip. When this trip is over I suspect my memories of the people we have met will be one of the really high points. People are very willing to approach us and strike up a conservation. One gets a very different feeling for the local people when the car gets left home. I've never experienced this before, and I have done other bike tours. This is my first unsupported tour with 30 pounds of stuff on the bike, and I wonder if that makes a difference.