Sunday May 19, Sacramento to Jackson CA
48 miles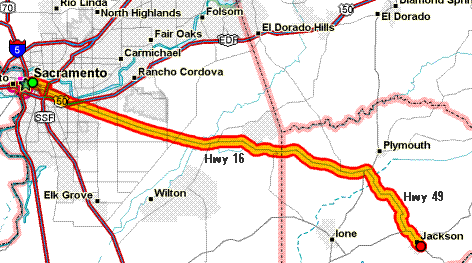 "Frank's Aqua-Bike"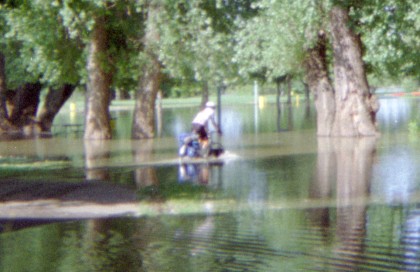 Alan's comments:
Our plan today was to leave the hostel in downtown Sacramento and follow the American River bike trail to Folsom, travelling through the heart of the city without ever seeing a car. Remember all that rain we hit yesterday? It all went in the river. We tried fording the first flooded section with water splashing over the wheel hubs (I've got a good photo of Frank on his aqua-bike) but it soon became clear that the bike path was a lost cause.
So we backtracked through the flood (I've never done that before, even on a mountain bike) and figured an alternate route. Actually riding through downtown Sacremento wasn't bad at all -- almost no traffic on a Sunday morning. We rode right by the state capitol building.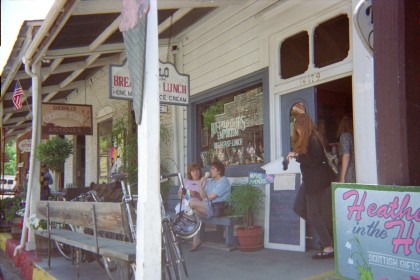 Frank's wife Ellen drove up to say a last goodbye and sagged our panniers the last half of the day's ride. It was very nice since Hwy 16, our emergency alternate route, was hilly, boring and high-traffic. No campgrounds around Jackson, so we are staying at a Best Western. (We really do plan to rough it, honest!)
The photo is a street scene in Amador City, along highway 49.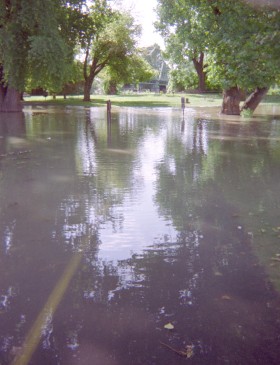 Frank's comments:
Riding thru the flood isn't as stupid as it sounds. It was only a few inches deep, and the path was easy to follow because of the yellow line down the middle. We were almost through the water when the yellow line disappeared, but it was easy to tell where the path had to be. Unfortunately, it wasn't easy to tell that a gulley ran across the path. Bikes sure slow down fast when the front panniers go under water. Oh, and did I say it was really nice starting off with dry shoes? Yes, they dried out really nice last night which felt great for the first mile of today's trip.
I made one other mistake before leaving home. Someone asked me how many flats I might get. My answer was I wouldn't expect more than half a dozen. Well, after leaving the American River (literally) I was turning off the bike path and lost traction on my front wheel. I ran into a concrete wall at maybe 10 mph, and the tire immediately went flat. I changed the tube, and other than a slightly loose head set everything was fine. About 5 miles later I picked up a nail in the rear tire and flatted again. Well tonight I got out the patches and repaired the damage. I would have thrown my front tube away rather than fix the 6 holes (three pinch flats), but we could not locate a bike store along tomorrow's route. The rear tire had the nail go entirely through, so it also was a double hole. Eight patches total!