1996 Cross-Country Bicycle Tour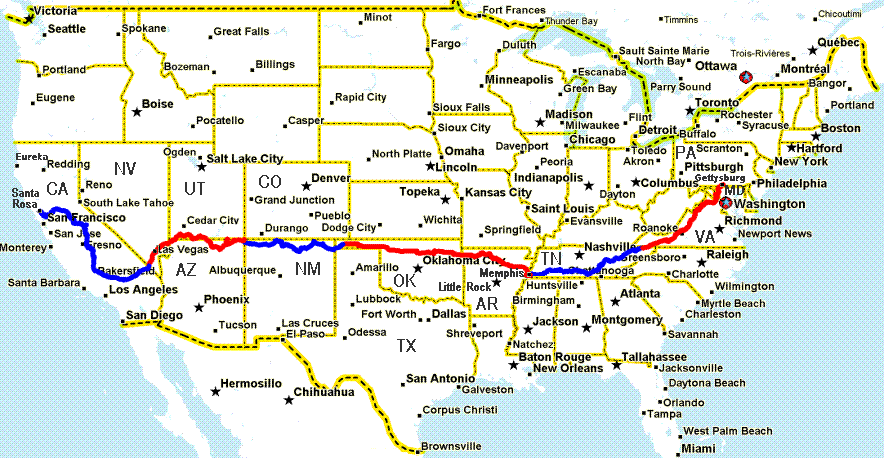 Days 1-11
May 18 - May 28  
Santa Rosa CA to Stateline NV
California
Days 12-23  
May 29 - June 9
Stateline NV to Teec Nos Poc AZ  
Nevada, Utah, Arizona
Days 24-31
June 10 - June 17
Teec Nos Poc AZ to Boise OK
New Mexico
Days 32-44
June 18 - June 30
Boise OK to Memphis TN
Oklahoma, Arkansas
Days 45-53
July 1 - July 9
Memphis TN to Kingsport TN
Tennessee
Days 54-60
July 10 - July 16
Kingsport TN to Getttysburg PA
Virginia, Maryland, Pennsylvania
Conclusion
Miles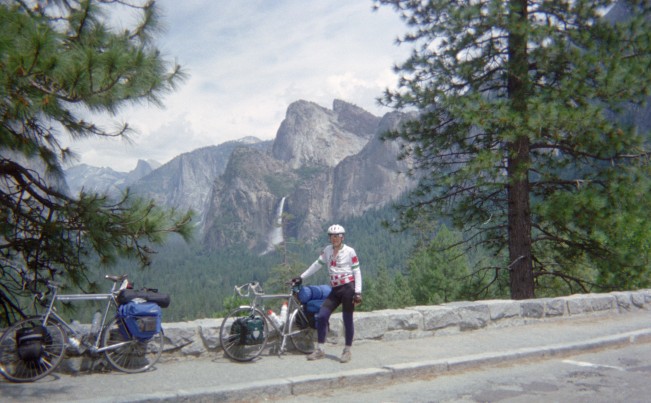 On May 18, 1996, two members of the Santa Rosa Cycling Club set off on their "tour of a lifetime." Frank Hamlin and Alan Bloom left from their homes in Santa Rosa CA headed for Alan's Mom's house in Gettysburg PA. Neither of us had ever done a fully self-supported tour before. Here's how we made out.
Frank brought along a portable computer and modem so we could email our trip diary to friends back home on a regular basis. This report is based on our email messages as I edited them 11 years later for this web page. (Any text where the author is not indicated is by me, Alan.)
Before the tour, I made an extensive set of detailed maps showing all turns and distances to the next turn. Several alternate routes are shown. Although they are now out of date, the maps were corrected and updated after the tour so they were quite accurate as of July 1996. Unfortunately, those maps were lost in a house fire in 2020 so are no longer available.
Last updated November 22, 2021